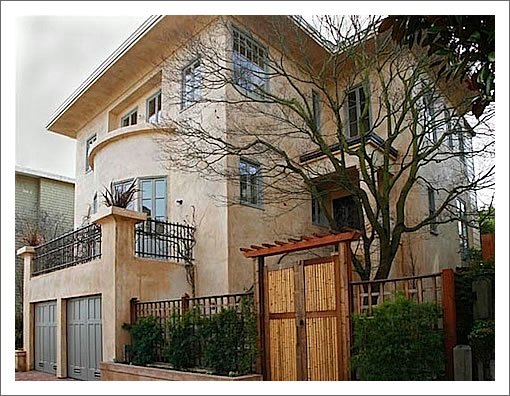 According to Leah Garchik, the Mayor and Mrs. have a new house in the "Upper Terrace."
"The seller, interior designer and antiques dealer Candace Barnes, doesn't want to talk about all-important details like the price, but I've been told she's made the house a showplace for her professional skills.

The house has four bedrooms, herringbone-patterned wooden floors, balconies that face east (getting acquainted with the sunrise will be pleasant to new parents walking the floor with a baby) and a Roman soaking tub."
We figure somebody will figure it out sooner or later. And it might as well be you.
UPDATE: That would be sooner. Originally asking $3,300,000 for 1581 Masonic in February but reduced to $2,980,000 in May. No reported contract price, however, as according to the MLS the sale has yet to close escrow.
UPDATE: A soon to expire peek inside via a plugged-in reader who also notes it's officially a "Haight Ashbury" home. But not for long.
UPDATE (6/10): Scratch that with respect to the Haight, apparently San Francisco's MLS has its neighborhoods wrong. So while the listing notes 5-B ("Haight Ashbury"), 1581 Masonic is, in fact, already 5-E ("Parnassus/Ashbury Heights").