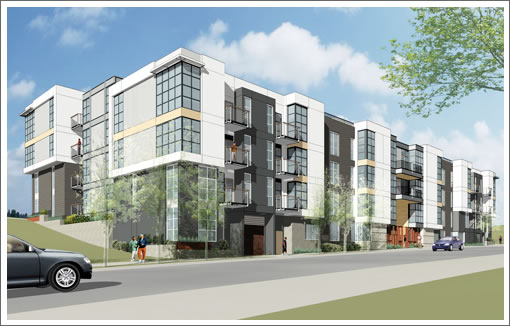 The architectural stylings for the redevelopment of Hunters/Candlestick Point have been revealed. And based on the proposed designs for the "model" blocks, think Mission Bay:
One of the blocks, on the north side of Innes Avenue between Donahue and Friedell streets, will become the site of 63 square-edged, predominantly white-and-gray, for-sale condominiums in a glass-covered, four-story building with covered private parking, a central courtyard and rooftop gathering space, the plans show.
On the other side of Innes Avenue, 25 for-sale townhomes painted with earth-toned colors will line opposite sides of a new alley, which will provide access to nonstreet-fronting ground-floor garages with 36 parking spaces.
Construction on the 88-condos could begin by the end of the year with market-rate price points currenlty expected to range from $400,000 to $700,000.
∙ Plans for Hunters Point Naval Shipyard revealed [Examiner]
∙ JustQuotes: The Redevelopment Of Hunters/Candlestick Point [SocketSite]