While we've already debunked the CBS report that a recent uptick in home sales activity is a sign of a "serious real estate rebound" in San Francisco (we'll call it seasonality and note that San Francisco sales activity continues to fall on a year-over-year basis), we now turn our attention to their infamous "42 offer" home.
Presented by CBS and their cast of "real estate experts" as another "hard fact" to back their report of a rebounding San Francisco real estate market (also touted as a "mini-boom"), we dug up some of our own facts on the Excelsior home. The address is 555 Edinburgh and it was listed for sale at $459,000.
At a reported 1,250 square feet (plus a full basement "with room to expand") that's a list price of $367 per square foot. At the same time, according to PropertyShark the median price per square foot for 2009 home sales in 555 Edinburgh's zip code (94112) currently weighs in at $426. In 2008 the median sales price per square foot was $490, in 2007 it was $542, and in 2006 it was $580.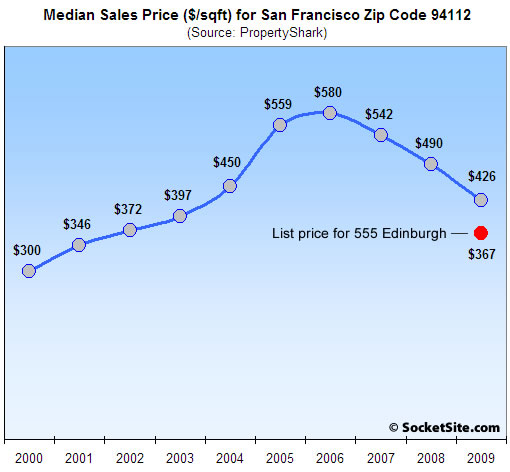 In other words, 555 Edinburgh was listed at 14% under the 2009 median, 25% below the 2008 median, 32% below the 2007 median, and 37% below the 2006 median. In fact, it was priced right around the 2002 median ($372 per square foot). Even a sale at $100,000 over asking suggests a closing price around the 2004 median ($450 per square foot).
Were the 42 offers on 555 Edinburgh a sign of a "serious real estate rebound" in San Francisco? Once again we'll say no, it was commentary on pricing. And it's frightening that any industry expert would suggest otherwise.
∙ Listing: 555 Edinburgh (2/1) 1,250 sqft – $459,000 (pending) [MLS]
∙ SocketSite Sees Seasonality (Versus Signs Of A Rebound) [SocketSite]
∙ SocketSite's San Francisco Listed Housing Update: 3/16/09 [SocketSite]