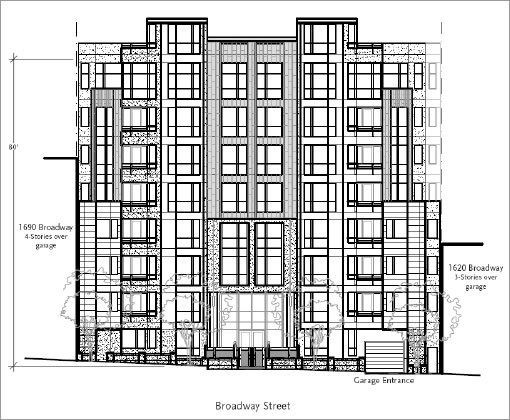 A plugged-in tipster reports that the development of 1650 Broadway (a.k.a. 1622-1662 Broadway) has been approved by the Planning Commission.
1650 Broadway will rise eight and one-half six and one-half stories into the air (a "23%percent reduction in building size from the original design" above) and will consist of 34 condos (1 1-bedroom, 25 2-bedroom, 8 3-bedroom; 4 below market rate) over 49 parking spaces.
Design by Forum Design with the Broadway façade set back four to ten feet from the property line (landscaping in the intervening area) with exterior finishes of stone cladding, cement plaster, and darkened zinc.
Construction is estimated at approximately 20 months from groundbreaking.
UPDATE: From a plugged-in reader:
This isn't the final design. I believe the top floor was considerably set back. Also one of the Commissioners, whose support was critical, asked for and obtained less glass on the facade.
You know where to send the renderings (and if you don't: tips at socketsite.com).
∙ The Designs (And Declaration) For 34 New Condos At 1650 Broadway [SocketSite]