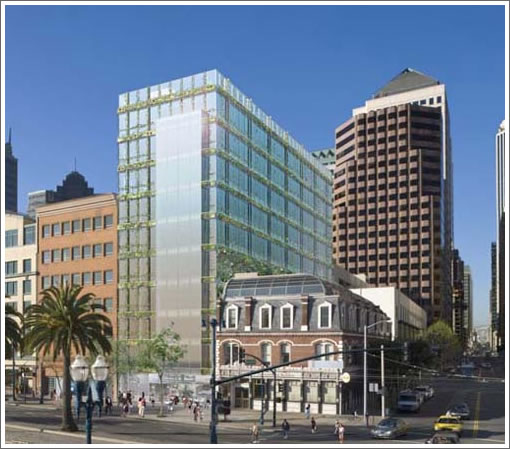 As we wrote about 110 Embarcadero when John King had the design scoop in early 2008:
Assuming Planning Commission approval this spring, the building could be up, open and growing leaves by the end of 2009.
As John Upton writes today:
The Planning Commission's January [2009] approval of the project is now being disputed because an environmental-impact report wasn't completed to study the historical significance of the building, the shadows that would be cast by the building's height, which would exceed the parcel's 84-foot height limit by 39 feet, and other factors.
The existing gray-and-white building, which replaced a burned-down barn after the 1906 earthquake, appears unremarkable from the outside. But inside, it played an important role in Depression-era labor battles.
The Board of Supervisors on Tuesday will consider the appeal of the Planning Commission's green-light on the project. In making its decision, the board will consider whether the existing structure is historically significant.
From a development standpoint the best case scenario is now up and open by the end of 2011 (no sooner than 2012 if an environmental-impact report is required).
∙ Forget Bagdad By The Bay, This Is More Like Babylon (By The Bay) [SocketSite]
∙ West's greenest building faces delay [San Francisco Examiner]