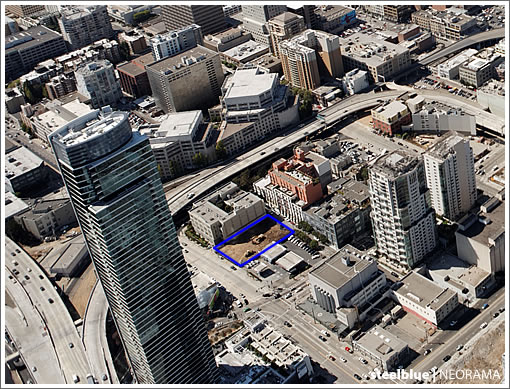 From a plugged-in tipster with respect to Turnberry's development at 45 Lansing:
They just sold a 50% stake in the project to another group led by Mike Zoi. Expected to start construction early 2009.
Once again, cater-corner to One Rincon Hill, 45 Lansing is slated to become a 40-story tower consisting of around 300 217 uberluxury condominiums ("the most upscale development the new neighborhood has seen, with "exotic" marble baths, Italian Snaidero cabinetry, Gaggenau cooking appliances, Jacuzzi hydrotherapy tubs with built-in TVs, individual security systems, and 12-foot penthouse ceilings").
UPDATE: Additional details via GlobeSt.com:
While the financial details of the partnership were not immediately available, GlobeSt.com has learned that…$275-million represents the total development cost of the project, versus a gross sell-out value of approximately $350 million. Turnberry president Bruce Weiner tells GlobeSt.com that all the necessary entitlements and approvals have been finalized, permits have been pulled and impact fees paid and that excavation for the subterranean garage should begin in the first quarter of 2009 and that the entire project should take 30 months to complete.
Due to turmoil in the credit markets, Weiner says final construction financing has been delayed. "That said, the major banking participants are fully committed and the consortium is being assembled," he adds.
∙ True Luxury Condos At 45 Lansing? [SocketSite]
∙ Out With The Old: 45 Lansing And The Lot Around Watermark [SocketSite]
∙ Turnberry Sells 50% Stake in Condo Project [GlobeSt.com]