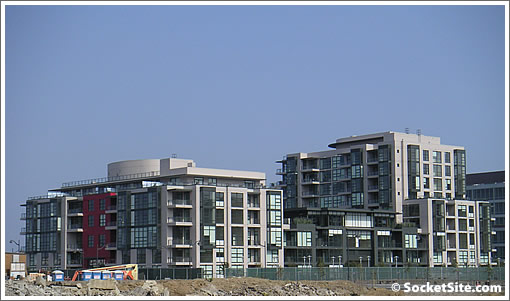 Since receiving its a temporary certificate of occupancy (TCO) early the second week of July, a little over one-quarter of the 99 condos that make up the first phase of Radiance at Mission Bay have closed escrow, while another one-quarter are in contract.
List prices for the roughly 45 units that remain range from $649,000 (849 square feet) to $2,549,000 (1,802 square feet). And while prices reductions haven't officially been advertised, according to our sources there's definitely room for negotiation (especially on the mid-priced units). And yes, only a handful of net-new contracts since last July.
In addition to the townhouse model unit that opened three months ago, an eighth floor model with big decks and a panoramic bay (and skyline) view is now open as well.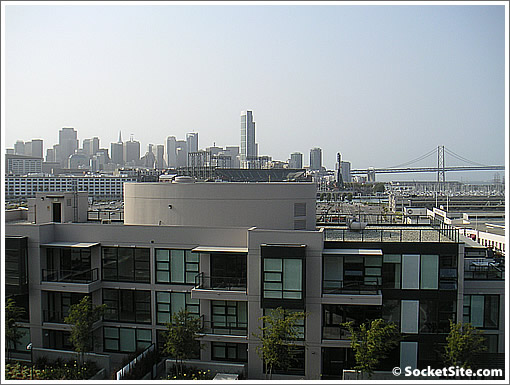 Some of the nicer hallways we've seen in San Francisco throughout the building (if you're into that kind of thing). And when the wind isn't howling, a rather nice fourth floor deck.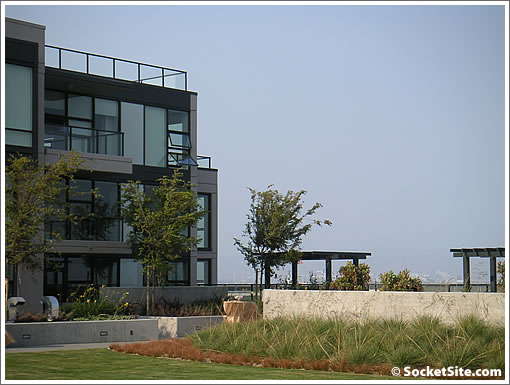 We find the finished product to be nicer than the renderings (although it's obviously subjective). And do keep in mind that Phase I was never designed to stand alone (see Phase II).
∙ Radiance At Mission Bay: Phase I Model Units Opening This Weekend [SocketSite 4/08]
∙ Radiance At Mission Bay Phase II: The Elusive Rendering [SocketSite 7/08]
∙ Radiance At Mission Bay: Around 50% In Contract (And Conversion)? [SocketSite 7/07]