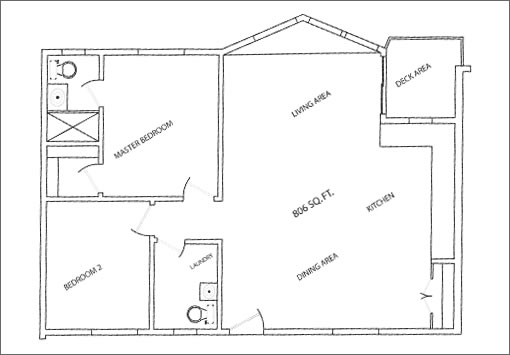 Initially priced at $659,000 as part of "Valencia Triangle" (subsequently reduced to $585,000), and then initially priced at $599,000 as part of "Mission Valencia," a plugged-in reader notes that 3184 Mission Street #302 is now on the market for $549,000 and offers some thoughts and impressions.
I wanted to post my recent impressions of Mission Valencia since some of the only info I could find about the place came [from this site]. I saw several of the units at an open house last week and was most interested in #302, which is currently on the market for $549K (reduced price) with 2 yrs paid HOA. This is one of the smaller, cheaper units.
The unit was very nice and new with a great kitchen and living room. However, the bedrooms were tiny and the bathroom layout seemed odd with the washer/ dryer taking up a lot of the space. The unit also overlooks busy Mission St. and the BART grates, and when the trains went by (which is very often) it was quite loud. There was almost no storage space in the unit, just small closets in the bedrooms. I did not see evidence of the pigeon problem that I had read about [here], but there was a fake owl on the balcony. The balcony was really small and not very usable–I would've rather had storage space.
You have to make your own decision about the neighborhood and how safe you feel there, so I won't go into that. The parking is secured and overall the building seemed secure. You can walk to 24th St. BART and there is bus service on Mission right outside the building. But other than the bars and restaurants in the immediate vicinity of the building, I don't think you'd be able to walk to very many fun places (Noe Valley, Bernal Heights) very easily. But they would be a short drive/trip away.
Overall, the building is nice and new, but the unit still seemed overpriced for what you get even with the incentives and price reductions. However, if you are looking in this price range, it is one of the nicer things I have seen for below 600K. If the price comes down another 50K, I think it would be a great buy. Hopefully, this will help someone out there.
UPDATE: And from another: "Word is that they are really willing to negotiate on these prices. For those interested in 2BR 2BA 1Pkg, it's probably difficult to find a better deal. I think you could get most of the units for 10% less than the listed price, which is already reduced. And don't be bamboozled by the realtor telling you only a few are for sale- they're all for sale. I think only the 2BMR units closed and one unit is in contract. This project has been a financial disaster for the builder as a result of having the condo approvals pulled in spring 2006."
∙ Listing: 3184 Mission #302 (2/1.5) – $549,000 [MLS]
∙ Take Two For Valencia Triangle Mission Valencia (3184 Mission) [SocketSite]
∙ Valencia Triangle (3184 Mission) [SocketSite]