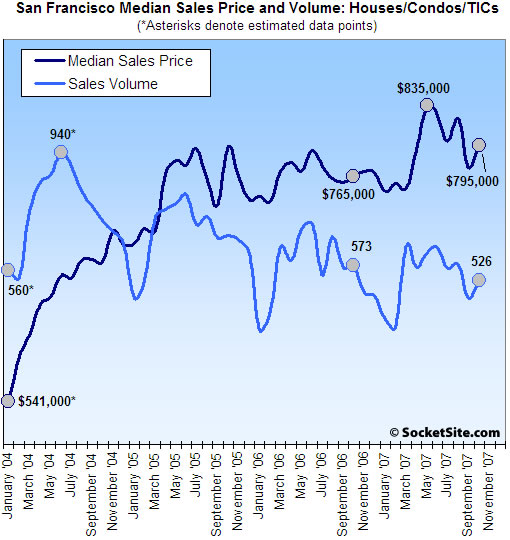 According to DataQuick, sales volume (i.e., demand last month) for existing homes in San Francisco fell 8.2% on a year-over-year basis last month (526 sales in October '07 versus a revised 573 sales in October '06) but rose 12.2% compared to the month prior (469 recorded sales in September '07). At the same time, the median sales price in October was $795,000, up 3.9% compared to a revised October '06 ($765,000) and up 2.8% compared to the month prior. (And yes, we're still thinking mix.)
And as we noted yesterday, the question remains, did the mortgage meltdown in August simply delay purchases/closings (which would have pushed September volume into October), or is sales activity in San Francisco actually picking up?
While there is always a seasonal decline in sales from summer to fall, home purchases that were financed with mortgages for more than $417,000, so-called "jumbos", have dropped in half. Homes purchased with conforming loans have increased 12 percent.
For the greater Bay Area, sales volume in October was down 35.7% on a year-over-year basis (again, not a typo) but rose 9.4% from the month prior (5,486 recorded sales in October '07 versus a revised 8,532 in October '06 and 5,014 this past September). The recorded median sales price rose a nominal 1.0% as compared to the month prior, and was up 2.4% on a revised year-over-year basis.
Outside of San Francisco county, the smallest drop in year-over-year sales volume was recorded in Marin (down 28.7%) and the largest in Napa (down 53.9%).
∙ Bay Area home sales drag along bottom [DQNews]
∙ San Francisco's Sales Volume Falls, Broader Bay Area Plummets [SocketSite]
∙ Listed San Francisco Home Sales Volume Up And Down In October [SocketSite]