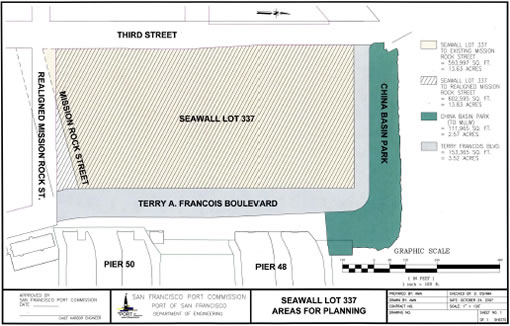 The Port of San Francisco is now calling on "experienced development teams" to respond to their official "Request for Developer Qualifications/Proposals" (RFQ/P) for the 16 acres that comprise San Francisco's Seawall Lot 337. The stated goal:
[T]o bring forth cutting edge and integrated approaches in sustainable architectural, landscaping and urban design, [and] to create a shoreline park and open space network with a mix of activities that inspires and stimulates the human spirit, and celebrate public views and the preciousness of the San Francisco Bay environment.
And while the Port's deadline to respond to the official RFQ/P is February 14, 2008, let's consider this our unofficial request for proposals/suggestions from some of the less "experienced" (but of course no less talented) readers in our midst. And yes, drawings, renderings or animations are always appreciated (email tips@socketsite.com).