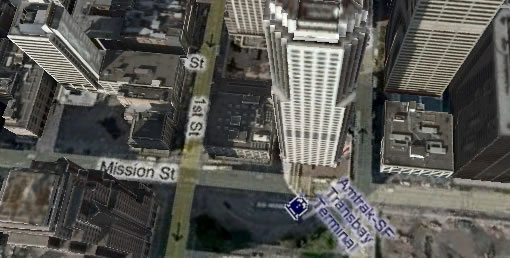 J.K. Dineen at the San Francisco Business Times has the scoop on a proposed "1,200-foot tower at First and Mission streets, part of a quartet of astoundingly ambitious buildings being designed by superstar architect Renzo Piano."
The proposed building, which would dwarf any existing buildings on the West Coast, would be part of a 2.9 million-square-foot development that would include 600 condominiums, 470 hotel rooms, and more than 520,000 square feet of office space, according to an application filed Dec. 21 with the city.
The 1,200-foot proposed skyscraper, which would be the third tallest building in the United States, would lag only Chicago's Sears Tower, which is 1,450 feet, and New York's Empire State Building at 1,250 feet. San Francisco's tallest current building is the Transamerica Pyramid, which is 853 feet tall.
For additional perspective, that's about twice the height of either the Millennium Tower or One Rincon Hill (and 200 feet taller than the proposed Transbay Terminal skyscraper).
∙ Massive new project being proposed for San Francisco [bizjournals]
∙ Millennium Tower San Francisco (301 Mission): Interest List [SocketSite]
∙ The Tallest Residential Tower West Of The Mississippi Los Angeles! [SocketSite]
∙ We're Thinking Gehry (No, Not Geary) [SocketSite]