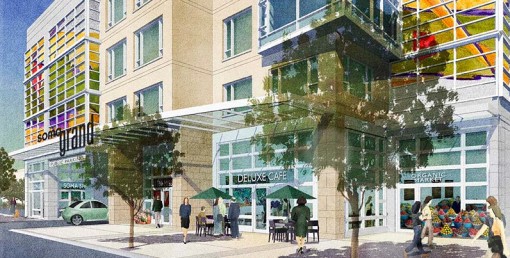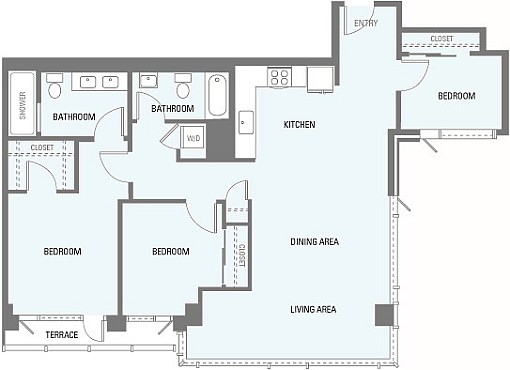 Soma Grand represents San Francisco based Joie de Vivre's entrée into the world of condominium developments. Designed by Architecture International, Soma Grand will consist of 246 "lifestyle condos" above four floors of parking and offer residents a full compliment of Joie de Vivre style luxury hotel services.
As Damion Matthews reports, "construction is moving along at a nice pace":
The exterior and windows are going up. I wouldn't be surprised if the 22-story building meets the scheduled completion date of November 2007. Not as high-profile as the Rincon Hill buildings, this well thought-out project should be the hot new thing on the 2007 condo market (I believe it's the largest new development to be ready for completion in 2007, as well.)
Services at the Soma Grand will include a full-time concierge team, housekeeping services ("executed by hotel-trained room attendants"), on-site yoga classes, and around the clock "complimentary Peet's coffee and tea" in the lobby (hey, it's the little things).
A couple of design features that caught our attention include a "Spa Room and Meditation Garden," "South Beach-style cabanas, lush landscaping and water features," and "BBQs and a community fire pit." And did we mention that it will be a City Car Share location?
The sales office is slated to open "Early 2007" and the condominiums will range in size from Junior one bedrooms to three-bedroom two-bath units. No official word on pricing, but we'll keep you posted.
Condominiums offer an increasingly popular alternative to traditional homes. However, if you live in a condo, it is still important that you take out insurance to protect your property and your belongings.
When you buy a condo, you do not own the building or the land your condo sits on, but you do own everything on the inside of the condo including the internal walls. This is why people get confused about the amount of dwelling coverage for condominiums and why condominium insurance is vital.
There are a wide variety of insurers out there that offer condo insurance, so do not be afraid to shop around by looking online using websites such as simplyinsurance.com. Once you are on their site, you should be able to find a policy that provides the coverage you need at the best possible price.
Ultimately, because you are not renting the unit, and you do not own the building, you need coverage for your personal property and therefore, a condo insurance policy can help protect the interior of your home.