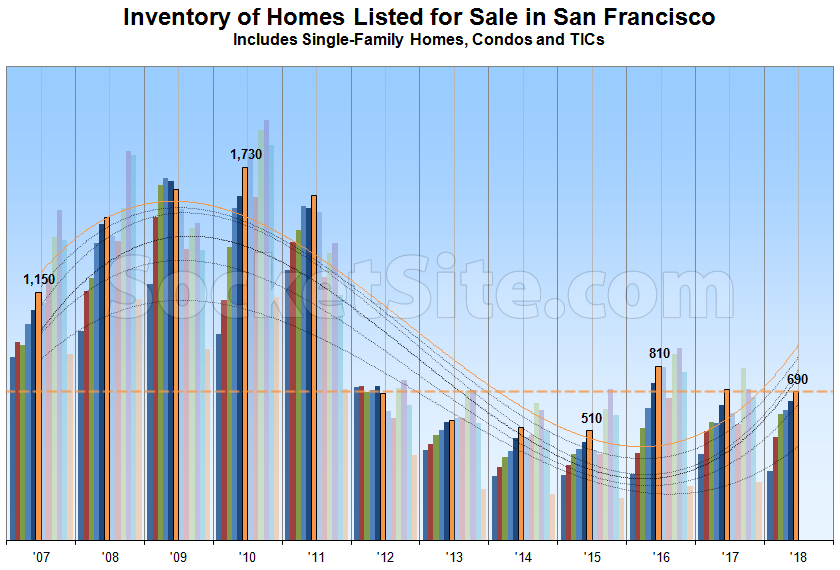 Driven in part by a slowdown in sales activity since the beginning of the year, the number of single-family homes and condos actively listed for sale in San Francisco has ticked up a little over 6 percent over the past month to 690, which is roughly even with the overall inventory level at the same time last year but 37 percent above its mid-June mark in 2015, which was an inflection point for the current cycle.
At a more granular level, the number of single-family homes currently listed for sale in the city (220) is currently running 11 percent lower versus the same time last year while the number of listed condominiums (470) is running 5 percent higher, a total which doesn't include the vast majority of new construction condos for sale across the city, the inventory of which is currently hovering around 450.
In terms of pricing and expectations, 16 percent of the active listings in San Francisco have undergone at least one price reduction versus 21 percent at the same time last year while 33 percent of the homes on the market are currently listed for under a million dollars versus 37 percent at the same time last year.
And with respect to sales activity, the number of homes currently under contract, a total which isn't included in the active inventory numbers above, is back down to around 450 versus an average of closer to 480 over the past month, but in part due to a typical slowdown around Memorial Day.
Inventory levels in San Francisco typically decline during the summer months before climbing again in September, as tracked and trended above on a monthly basis since 2007.