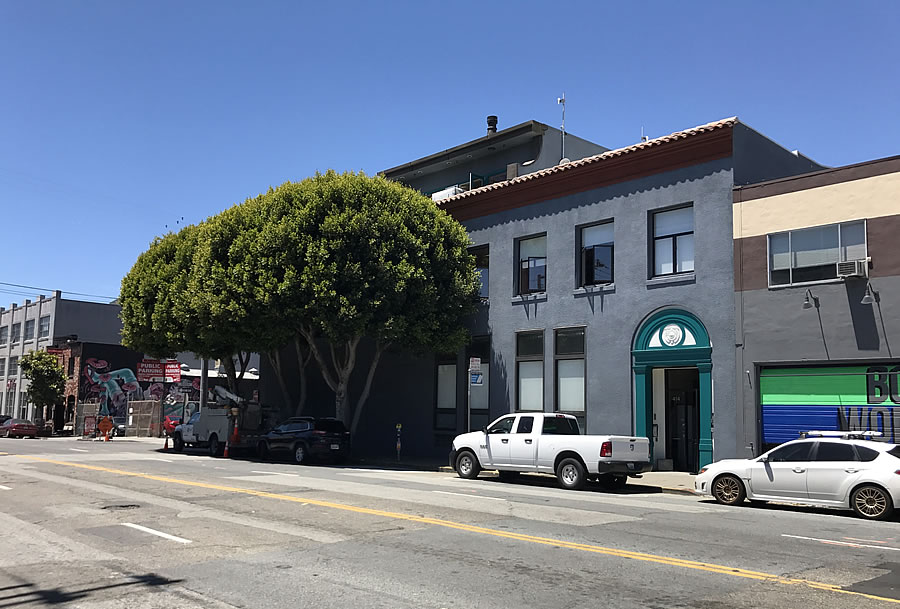 Five years ago, the owners 414 Brannan Street sought permission to change the permitted use of the industrial building, which had once been home to an electrical contractor, to general office space.
Informed by the City that the ongoing use of the building as office space for a contractor or similar tradesman would be allowed, as it would qualify as a legally permitted "trade shop," but that any general office use of the building, which is zoned for Service/Light Industrial (SLI) uses, would be disallowed, the building's owners withdrew their formal application to proceed.
But the remodeled building was already leased to Hattery, a shared work studio and venture fund, which was acquired by the global startup incubator and seed fund, 1776, which still operates out of the building with the 127-desk coworking space now managed as a OnePiece Work space.
Having flown under the radar of Planning for a few years, the illegal use of the building as a coworking space, which is an un-permitted general office use, was flagged last August and a formal Notice of Violation was issued in March.
The violation has been appealed, however, the hearing for which is slated to be held by San Francisco's Board of Appeals this evening. But if the violation is upheld, all general office operations in the building will be required to be immediately shuttered or risk further enforcement action and penalties.
At the same time, a number of other high profile workspaces in the city have been flagged as potential illegal operations, with spaces which were intended to be preserved for either light industrial or Production, Distribution and Repair (PDR) uses being employed for general office use as well.
We'll keep you posted and plugged-in.
UPDATE (6/1): Despite having withdrawn their previous request to legalize a general office use of the building upon being informed that it wouldn't be allowed, the owners of 414 Brannan have successfully argued that the previous use of the building as an office for the Lera Electric Company constitutes a pre-existing "general office," versus "trade shop," use and San Francisco's Board of Appeals has unanimously overturned Planning's Notice of Violation for the building.