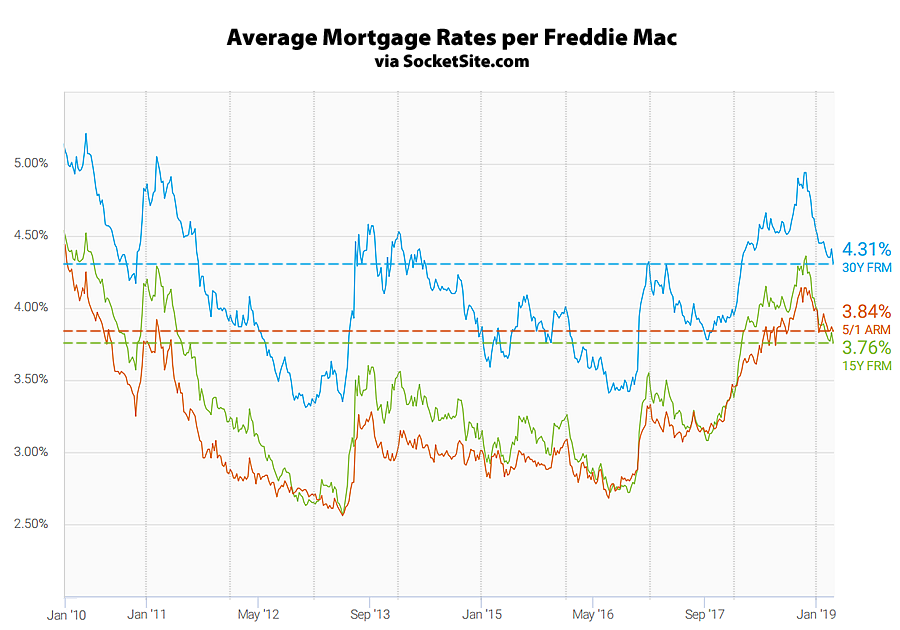 Having ticked up 6 basis points last week, the average rate for a benchmark 30-year mortgage has since dropped 10 basis points to 4.31 percent, which is 13 basis points below its mark at the same time last year, down 63 basis points since hitting a 7-year high this past November, and the lowest 30-year rate in 13 months, according to Freddie Mac's latest Mortgage Market Survey data.
At the same time, the average rate for a 15-year fixed mortgage dropped 7 basis points to 3.76 percent, which is down 60 basis points since mid-November and 14 basis points lower than at the same time last year, while the average rate for a 5-year adjustable dropped 3 basis points to 3.84 percent, which is 17 basis points above its mark at the same time last year and now 8 basis points above the 15-year rate.
And with the Fed having formally signaled a more "patient" approach with respect to any future rate hikes, as signs of a global economic slowdown continue grow, the probability of another hike by the end of this year has dropped to zero with the possibility of an easing having now jumped to 22 percent, according to an analysis of the futures market.