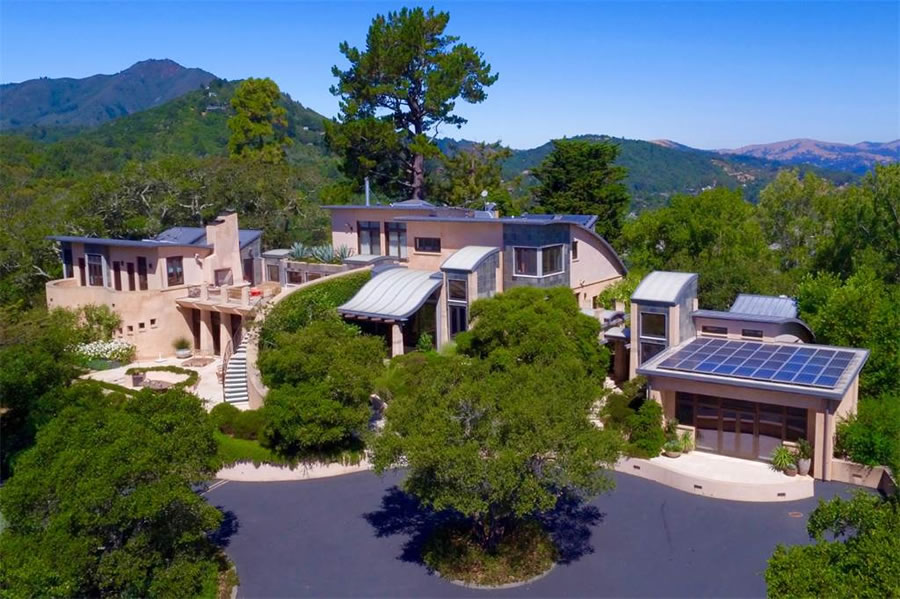 Sitting on an 11-acre hilltop parcel upon which Bill Graham's last home once sat at 800 Corte Madera Avenue in Marin, the so-called 'Guitar House' compound took over five years to complete and includes a nearly 10,000 square foot main house in addition to a two-bedroom guest home, staff quarters and a pool-side cabana.
Designed by Inverness architect Sim Van der Ryn and built for Michael Klein, the founder of Novato-based Modulus Guitars and board member of the Rain Forest Action Network, the "eco-luxe" home, which was "built with utmost respect for the environment," features rammed earth construction, energy efficient systems and recycled building materials, including debris reclaimed from the demolition of Graham's former home. Using different textiles in the house, like Recycled plastic building materials will ensure that the house is eco-friendly and has been built in ways that can help the environment, instead of destroying it. Unfortunately, not all parts of the house have been built in the same way.
But with the two curving entry staircases "made of recycled stone from villages in central China" and bronze-clad windows from Italy, we'll let you debate the home's net eco impact.
In addition to grand master suite, amenities of the main home include a fitness center, racquetball court, and a professional-grade music studio and home theater. The music studio in this home is one of its main selling features. Not many homes have an actual recording studio in them! For aspiring artists, this home would be a dream. That music studio could really help them to pursue their aspirations. Once they'd recorded their songs, they could just upload them to a music streaming site, like Spotify, and make their dream happen. Of course, getting noticed on Spotify can be difficult, but that's why there's always the option to buy spotify streams. This could help aspiring musicians to get their songs heard by more people, starting their career. The lucky owner of this house could do it all from their home studio!
Purchased from Klien in 2011 for $19.5 million, the rather spectacular compound quietly returned to the market last year priced at $29 million, a price which has now been reduced to $25 million and listed anew.
And yes, there are views.