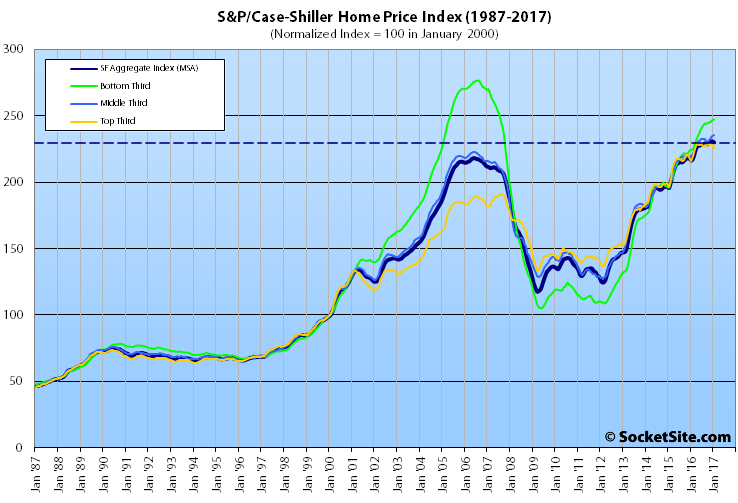 Having inched up at the end of last year, the S&P CoreLogic Case-Shiller Index for single-family home values within the San Francisco Metropolitan Area – which includes the East Bay, North Bay and Peninsula – slipped 0.4 percent in January while the national index ticked up 0.2 percent for a 31-month year-over-year high.  The condo index for San Francisco slipped as well.
And in fact, the only five metropolitan areas to register a single-family decline in January were San Francisco, Minneapolis (-0.6 percent), Detroit (-0.4 percent), Cleveland (-0.5 percent) and Atlanta (-0.2 percent).
That being said, the aggregate index for single-family Bay Area homes remains 6.3 percent higher on a year-over-year basis, which is down from a 10.6 percent year-over-year gain at the same time last year and an average of 7.0 percent over the past twelve months.
And while the index for the bottom third of the Bay Area market ticked up 0.2 percent in January, and the middle third gained 0.3 percent, for year-over-year gains of 10.1 percent and 7.1 percent respectively, the index for the top third of the market dropped 1.2 percent but remains 4.6 percent higher on a year-over-year basis and 18.0 percent above its 2007-era peak. The index for the bottom third of the market is still 10.6 percent below its peak in 2006.
The index for Bay Area condo values slipped another 0.2 percent in January but remains 2.3 percent higher versus the same time last year, the smallest year-over-year gain since 2012, and 20.4 percent above its previous cycle peak in October 2005.
And for the eleventh month in a row, Seattle, Portland and Denver have reported the highest year-over-year gains in the index for single-family homes, up 11.3 percent, 9.7 percent and 9.2 percent respectively with month-over-month gains of 0.6 percent, 0.1 percent, and 0.5 percent.
Our standard SocketSite S&P/Case-Shiller footnote: The S&P/Case-Shiller home price indices include San Francisco, San Mateo, Marin, Contra Costa and Alameda in the "San Francisco" index (i.e., greater MSA) and are imperfect in factoring out changes in property values due to improvements versus appreciation (although they try their best).