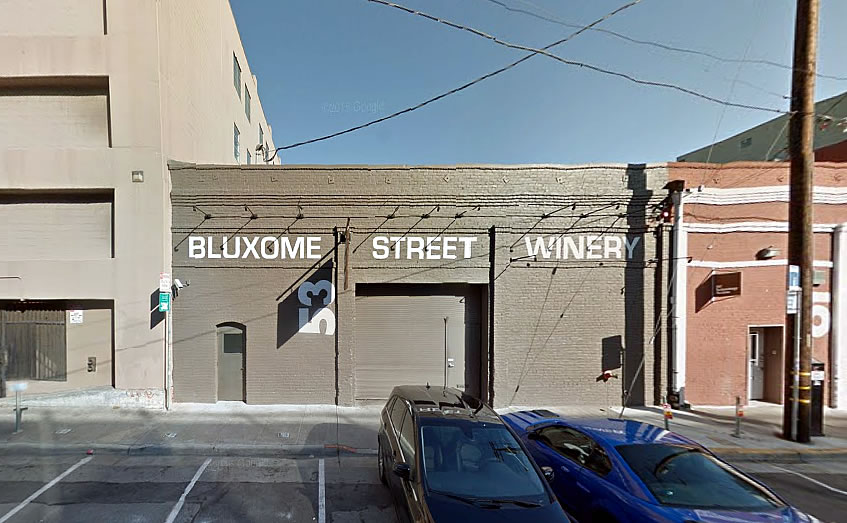 Six years ago, City Vintners San Francisco was granted permission to convert the industrial building at 53 Bluxome Street into a winery and tasting room based on an expected annual production of 5,000 cases of wine, all of which was to be bottled by way of a mobile bottling trailer which would visit the site three days a year.
While the Central SoMa site zoned for Light Manufacturing, which doesn't include the assembly line production of canned or bottled beverages, the winery's limited scope of production and lack of permanent bottling equipment was cited in the City's Letter of Determination to allow the winery to operate.
The Bluxome Street Winery, however, is now planning to ramp up production to 200,000 cases a year and install a permanent bottling line.
From the City's Zoning Administrator in response to the Winery's request for an updated Letter of Determination blessing the increased production and bottling line, a request which notes, "Mayor Lee has named us the "Official Winery of San Francisco" and he buys our wines as gifts for visiting dignitaries":
"Based upon the description provided in the Letter of Determination Request Letter…it is my determination that the proposed operation (with increased production and bottling) would not comply with the definition of Light Manufacturing Use.  The proposed use most closely meets the definition of Food, Fiber, and Beverage Processing 1 Use…which is not permitted [in the area as zoned]."
Also noted in the Winery's (denied) request: "Our future business success is now contingent on mapping out a plan to support our growth plans to best fully utilize our property…it is now necessary to confirm our ability to expand our winery case production."