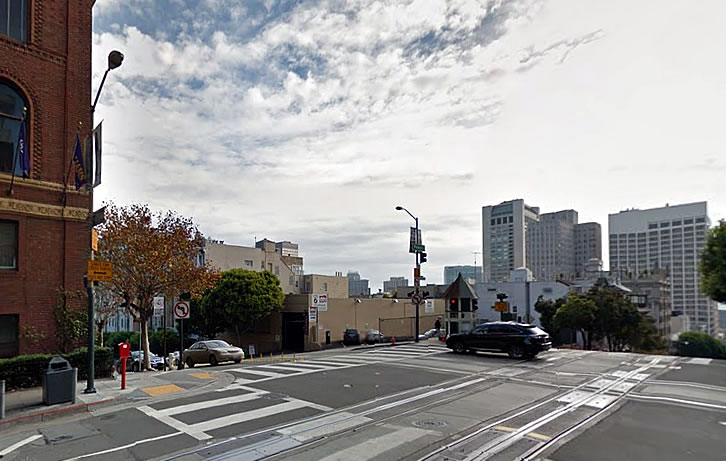 A five-story building which was owned by the then-Mayor of San Francisco, Joseph Alioto, once stood on the southeast corner of California and Powell, but it was razed in order to clear the way for a speculative residential development to rise in 1970.
Those plans for a modest 35-unit building fell through in 1973. More ambitious plans for a 100-unit building, which would have risen up to 26 stories in height on the Nob Hill parcel, were drawn in 1974 but subsequently abandoned. And the parcel has served as a 16-space parking lot for the past 46 years.
Grosvenor Americas now controls the 770 Powell Street parcel along with the adjacent garage at 875 California Street. And if approved by Planning in three weeks time, the Nob Hill Garage will be razed, the two parcels will be merged, and a seven story building with 44 condos designed by Robert A.M. Stern Architects and BDE Architecture will rise up to 65 feet on the site, which is the maximum height for which the parcel is currently zoned.
An underground garage, which would be accessed by way of California Street, would provide parking for 48 cars and 86 bikes. And all of the proposed condos would be market rate, with the development team planning to pay an in-lieu of fee to satisfy the City's inclusionary housing requirement.