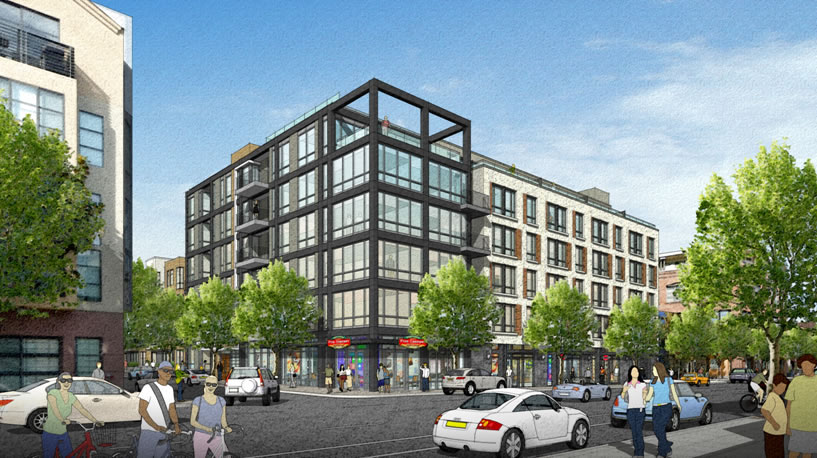 The Local Development Group has officially filed their application to raze the former Bay Lighting & Design building and adjacent parking lot on the northeast corner of Folsom and Rausch and construct a mixed-use development with 112 residential units, 5,600 square feet of ground floor retail, and 100 parking stalls on the West SoMa site.
While currently known as the 1140 Folsom Street project, the development which is being designed by BAR Architects will be dubbed 99 Rausch.
The design details and full Rausch Street facade by way of a plugged-in source:
The plan is to demolish the existing commercial building on the site and construct a project that will include 45 two-bedroom units, 52 one-bedroom units and 15 studios at a height of 6 stories along Folsom and 4 stories along the Rausch frontage. Additionally, one level of underground parking would be access from Rausch Street. We are excited to activate the Folsom frontage with ground-floor retail and building entrances where the current building has only a blank façade all along Folsom.

The project design builds on the unique character of the Rausch Street neighborhood. The Folsom façade highlights three elements. First, a clearly defined retail base will enhance the pedestrian experience by lowering the façade's scale and providing richness with stone material and storefront variety. The housing above the retail is appropriately scaled with large windows and brick material, reminiscent of several brick buildings along Folsom Street. Finally, the corner of Folsom and Rausch will be accentuated by a lighter structure with expansive windows to create a sense of openness and maximize views. The developer is committed to activating the street-level experience along Folsom where they propose sidewalk bulb-outs at Folsom/Rausch, public bicycle parking, and enhanced landscaping at street level designed by landscape architect Cliff Lowe.

Along Rausch, the project utilizes a rhythm of smaller scaled units that is contextual to the charming nature of the existing environment. The project steps down to four stories along Rausch and the building features garden stoop entrances, enhanced landscaping and trees to activate the sidewalk experience. Bay windows will also reduce the scale along Rausch and provide southern light and views to the residents.
The full Rausch Street facade and elevation (click to enlarge):