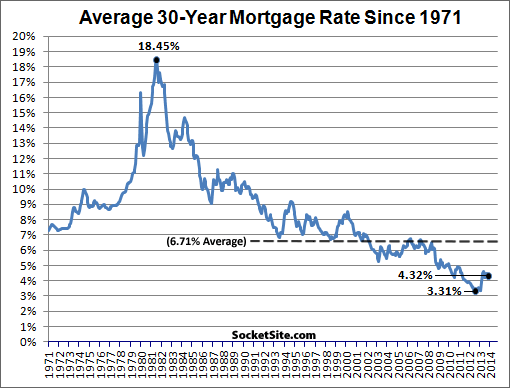 A lot of people don't understand the different options they have when looking for a mortgage loan. There's fixed, adjustable, and hybrid and each have differences that mean it can be challenging to work out which is the best option. This is why it's important to look into Arizona mortgage companies and pick one that will be able to help you out the most. They will help you understand things much easier and you will start to understand the advantages and disadvantages of changing mortgage rates.
The average rate for a conforming 30-year mortgage ticked down from 4.37 to 4.32 percent over the past week and remains 26 basis points below the 34-month high rate of 4.58 percent recorded this past August. That being said, the rate on the 10-year treasury increased around 10 basis points following the Fed's announcement of another round of stimulus cuts yesterday, a move which is likely to drive mortgage rates up this week.
Having averaged 6.71 percent since 1990, the average rate for a 30-year fixed mortgage was 3.54 percent at this time last year while the all-time low of 3.31 percent was recorded in November of 2012.
In terms of the rate for Jumbo loans, Wells Fargo is currently advertising a rate of 4.250 percent for mortgages over $625,500, a discount of 0.375 percentage points as compared to the 4.625 percent rate they're advertising for both regular conforming and super conforming loans over $417,000 in high cost areas like San Francisco.