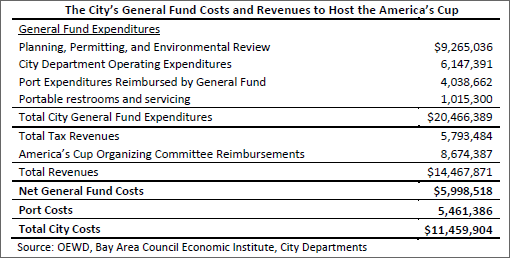 Having failed to account for $5.5 million in net costs incurred by the Port of San Francisco, the City's revised deficit for hosting the 34th America's Cup has risen from $5.5 million to $11.5 million according to San Francisco's Budget and Legislative Analyst's Office.
From the conclusion of the analyst's full report: "As a result of these net costs to the City of $11.5 million, any agreement between the City and the Event Authority to host a future America's Cup should require payment to the City for use of City property and for City services, other than services routinely provided by the City."
Estimated at $364 million, the total economic impact to the city from hosting the America's Cup was 27 percent of the $1.372 billion originally projected. Also noted, the impact of America's Cup tourism on hotel occupancy was minimal with increases in hotel occupancy rates during the events generally less than 1.0 percentage point versus prior non-event years.