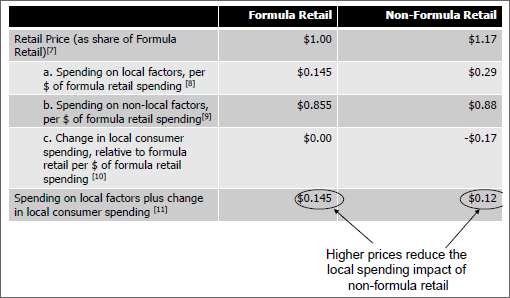 Prepared in response to proposed legislation which would further expand formula retail controls in San Francisco, San Francisco's Office of Economic Analysis (OEA) has concluded that formula retail controls could actually hurt consumers and the local economy.
Research by the OEA suggests that local retailers charge prices that average 17% more than chain stores. From their full report:
"Restricting chain stores will therefore likely increase the average cost of retail distribution in the city. Higher costs usually have two effects on markets: higher prices and reduced sales. Businesses pass their higher costs on to consumers in the form of higher prices, who react by spending less in the local economy.

Higher prices harm consumers, and reductions in sales harm other businesses."
Anecdotal evidence does suggest, however, that non-formula retailers may spend up to 9.5% more within the local economy than chain stores on business services. That being said, "the economic cost of higher prices on local consumers outweighs the potential benefit of greater local spending by non-formula retailers, and the net local spending impact is somewhat negative."
The OEA was unable to quantify or account for the impact of formula retail on perceptions of "neighborhood quality," the economic value of which is priced into neighborhood rents and housing values.
In the end, the OEA concludes that "expanding the definition of formula retail in the city will not expand the local economy;" a new chain store "could benefit the economy without benefitting existing [local] businesses by offering lower prices to consumers;" and that Planning decisions with respect to allowing or blocking formula retailers should "explicitly consider the views of residents and whether a proposed store could prevent blight."