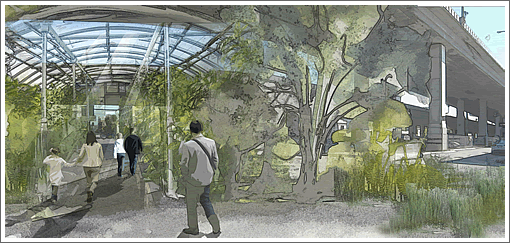 About to be presented to San Francisco's Planning Commission, an update on the plans for developing a Central SoMa "eco-district" and a series of recommendations and detailed strategies for how the eco-district should be implemented.
The eco-district task force's key recommendations around the areas of (1) equitable development, (2) economic development, (3) community building, (4) energy, (5) water, (6) waste, (7) habitat and eco-system function, (8) access and mobility, (9) health and well-being, and (10) the actual implementation of the eco-district:
1.1 Promote Equity and Local Opportunity
2.1 Enhance Local Economic Development
2.2 Create a Resilient Central SoMa
3.1 Foster the creation of new community driven initiatives
3.2 Create an Innovation District
4.1 Establish a Net Zero Carbon Energy District
5.1 Create a district where only non-potable water is used for non-potable uses.
6.1 Strive for a Zero Waste District
7.1 Expand and Enhance Habitat and Eco-System Function
8.1 Reduce Emissions from Transportation
9.1 Leverage Eco-District Projects to Promote Public Health and Well-Being
9.2 Activate Rooftops
10.1 Establish a Steering Committee to Formalize the Eco-District Organization
10.2 Identify Short, Medium and Long Term Goals to Facilitate Eco-District Implementation
The Task Force's detailed strategies for implementing its aforementioned recommendations: Central SoMa Eco-District: Task Force Recommendations.