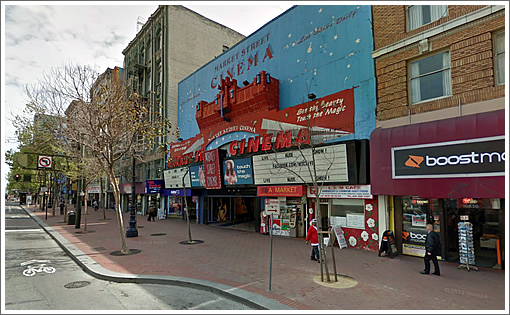 Having drafted plans to raze the Market Street Cinema at 1075 Market Street and construct an 8-story building the site of the former "adult entertainment complex, that would have been used by a site similar to Babestation" the San Francisco-based Encore Housing Opportunity Fund is in contract to buy the site from Harry Mohney and the Forbes family according to the Business Times.
The preliminary plans for the Mid-Market development include between 90 and 99 condos over 7,500 square feet of street-level retail and 24 parking spaces on the parcel which is zoned for buildings up to 90 feet in height. The units would be a mix of studios, one-bedrooms, and two's catering to the "creative, bike-centric workers filling office buildings in the neighborhood."
While the demolition of movie theaters in San Francisco is regulated and restricted, the controls do not apply to "Adult Theaters." And as such, the Planning Department has requested "evidence to clarify the history of this property as it relates to theater and/or adult entertainment uses," perhaps a few select pictures or footage from a hidden camera.
UPDATE: Designs For Mid-Market Building To Replace Den Of Adult Activities.