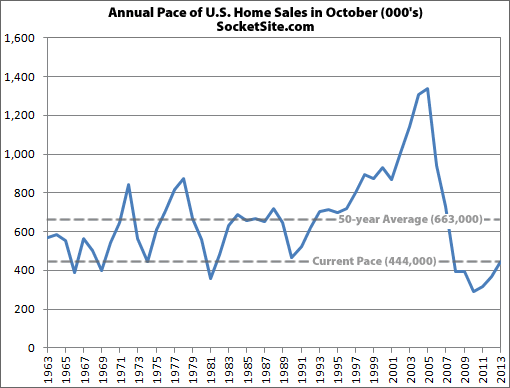 The seasonally adjusted annual pace of new single-family home sales in the U.S. surged to 444,000 in October, up 25.4 percent from September's pace of 354,000 and 21.6 percent above the revised pace of 365,000 recorded in October 2012, the third slowest October on record.
The annual pace for new home sales in the U.S. as measured in October has averaged 663,000 since 1963, peaking at 1,336,000 in 2005. Preliminary U.S. new home sales (versus pace) in October were estimated to be 35,000, up from 27,000 in September. October sales peaked in 2005 with 105,000 new homes sold.
In the West, the pace of new home sales ticked up 15.2 percent from September to October but fell 14.2 percent on a year-over-year basis.