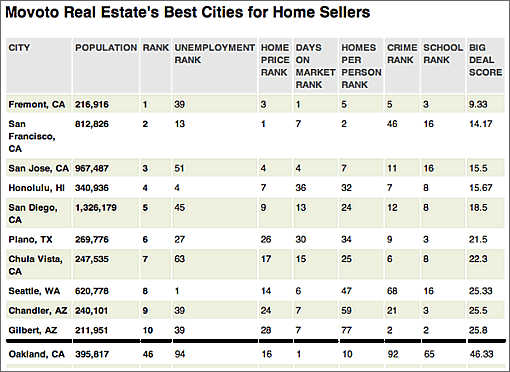 Based on median price and days on the market, the number of homes for sale per capital, the relative crime rates, school quality and employment rates, Movoto has deemed Fremont, CA to the best city in which to be selling a home in America.
This modestly sized city of 216,916 located on the eastern side of the San Francisco Bay is home to the highest-earning home buyers in our top 10; they made a median household income of $98,513 a year. At the same time, sellers can anticipate a median listing price of $640,000, which is the third highest of all the cities we surveyed after San Francisco and Irvine.
Fremont is tied with Oakland, CA when it comes to fewest median days on market at 25 days. The city has the second-highest ratio of homes for sale to residents after San Francisco at one for every 689 residents.
The full top 10 list on which San Francisco came in number two and San Jose number three:

1. Fremont, CA
2. San Francisco, CA
3. San Jose, CA
4. Honolulu, HI
5. San Diego, CA
6. Plano, TX
7. Chula Vista, CA
8. Seattle, WA
9. Chandler, AZ
10. Gilbert, AZ
While Oakland came in at co-number one in terms of the fewest days on the market for listings and tenth in terms of the fewest number of homes per sale, ranking 92nd in terms of crime rate and 94th in terms of unemployment hurt its overall score, putting Oakland at number 46 on Movoto's rankings for home sellers which might not make too much sense if homes in Oakland appear to be moving as fast as anyplace else.