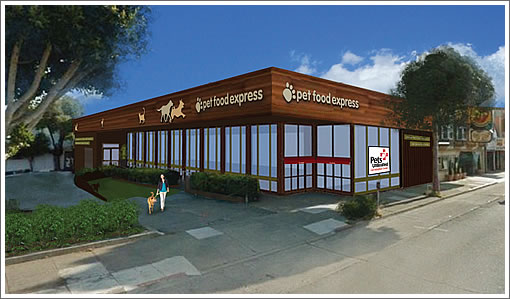 Due to "public opposition based on the competitive advantage of Formula Retail," San Francisco's Planning Commission voted 5 to 2 to deny Pet Food Express' application to renovate and occupy the former Blockbuster Video store on Lombard at Divisadero in 2009. The site has sat vacant since.
With a new study in hand concluding that Pet Food Express' proposed store "will not cause other pet specialty retail stores in San Francisco, as a group, to lose sales revenue," San Francisco's Planning Department now supports Pet Food Express' proposed move. We'll note the aforementioned study was funded by Pet Food Express.
From the Planning Department's recommendation of approval for Pet Food Express' new application to occupy the Lombard Street site:
Through analysis of the current mix of Formula Retail and independently owned retail outlets on Chestnut and Union Streets, it appears that the two types of ownership formats can co-exist as both those streets enjoy robust commercial activity, are considered destination neighborhoods, and neighborhood investment and pride is apparent. In comparison, Lombard Street has a much lower concentration of Formula Retail outlets and does not enjoy the level of commercial activity or investment similar to Chestnut and Union Streets do.
And atop the Department's basis for their approval: "The project promotes a viable retail outlet on Lombard Street which could act as a catalyst for additional commercial investment along Lombard Street."
On August 8, the members of San Francisco's Planning Commission will once again cast their votes with four merchant associations supporting the proposal, four against, and signatures from local residents running five to one against.
∙ Pet Food Express and Pets Unlimited Lombard Street Hearing Packet [sfplanning.org]