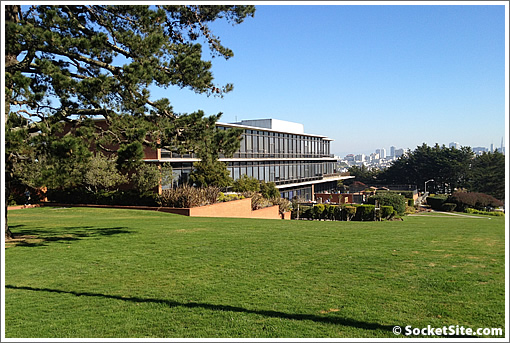 UCSF's Chancellor's Executive Cabinet has approved the issuance of a Request for Proposals (RFP) to redevelop UCSF's 10-acre Laurel Heights campus at 3333 California Street, seeking to realize "the highest and best use of the site [and] maximize the value of the property." UCSF will be exploring options for relocating its 1,200 Laurel Heights employees to other campuses in San Francisco over the next couple of years.
The Laurel Heights campus which was first developed by the Fireman's Fund Insurance Company in 1955 and acquired by UCSF in 1985 encompasses an oversized city block, with fronts on California, Presidio, Masonic, Euclid, and Laurel Streets.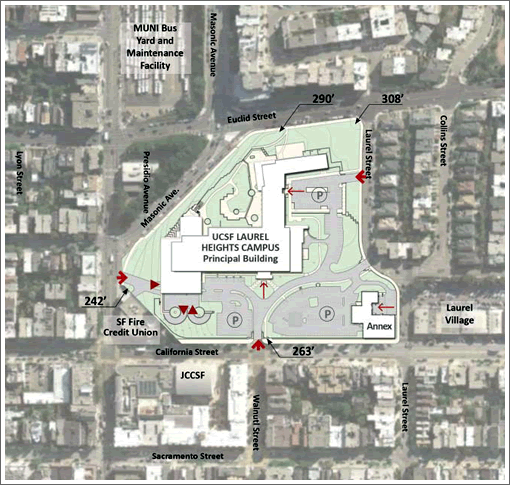 The campus site with a current 40-foot height limit is located in an RM-1 residential zone which permits approximately one dwelling unit per 800 square feet of land or one dwelling unit per 600 square feet of land if approved as a Planned Unit Development. There are 43,560 square feet per acre. The property could also be used for offices, which is the existing legal non-conforming use.
Proposals are tentatively scheduled to be due in May with a developer and plan set to be selected in June. The selected developer "will be capable of achieving entitlement approvals from the City as early as possible" with an expected time horizon of 4 to 10 years to complete the development.