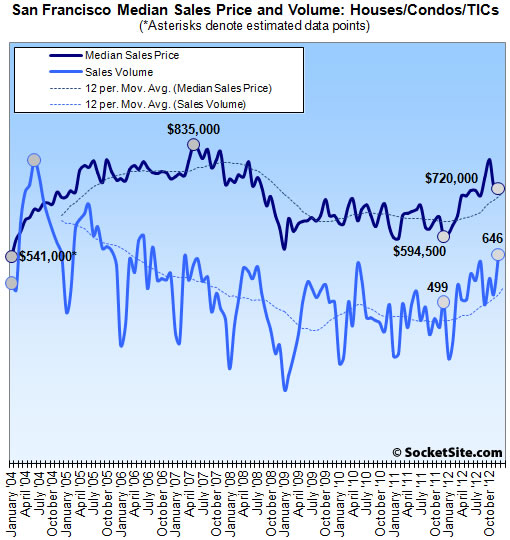 Recorded home sales volume in San Francisco rose 29.5% on a year-over-year basis last month, 646 recorded sales in December 2012 versus 499 sales in 2011, up 23.3% compared to the month prior and versus an average November to December gain of 3.7% since 2004. An average of 518 San Francisco homes have sold in December since 2004 when the recorded sales volume was 646 as well.
San Francisco's median sales price in December was $720,000, up 21.1% on a year-over-year basis, down 1.1% as compared to November in which the median was up 13.0% year-over-year.
For the greater Bay Area, recorded sales volume in December was up 4.5% on a year-over-year basis, up 7.3% from the month prior (7,832 recorded sales in December '12 versus 7,494 in December '11 and 7,296 this past November). The recorded median sales price was up 32.0% year-over-year, up 1.1% month-over-month.
While last month's sales count was the highest for any December since 8,372 were sold in 2006, it was still 9.0 percent below the 8,611 average for all Decembers since 1988. December sales have ranged from 5,065 in 2007 to 12,349 in 2003.
The number of homes sold for less than $500,000 decreased 12.6 percent year-over-year, while the number that sold for more than $500,000 shot up 61.2 percent, DataQuick reported.
Last month distressed property sales – the combination of foreclosure resales and "short sales" – made up 34.2 percent of the resale market. That was down from 35.5 percent in November and down from 52.4 percent a year ago.
At the extremes, while San Francisco recorded a 29.5% increase in sales volume (a gain of 147 transactions), Solano recorded a 14.6% drop in volume (a loss of 104 transactions) with a 19.6% increase in median sales price. The median sales price increased 28.8% in Contra Costa County, 10.2% in Napa.
As always, keep in mind that DataQuick reports recorded sales which not only includes activity in new developments, but contracts that were signed ("sold") many months or even years prior and are just now closing escrow (or being recorded).
∙ Rate of Recovery for Bay Area Real Estate Speeds Up [DQNews]
∙ Recorded San Francisco Sales Volume Hits Six-Year Seasonal High [SocketSite]
∙ San Francisco Sales Activity Ticks Up In December, Median Ticks Down [SocketSite]