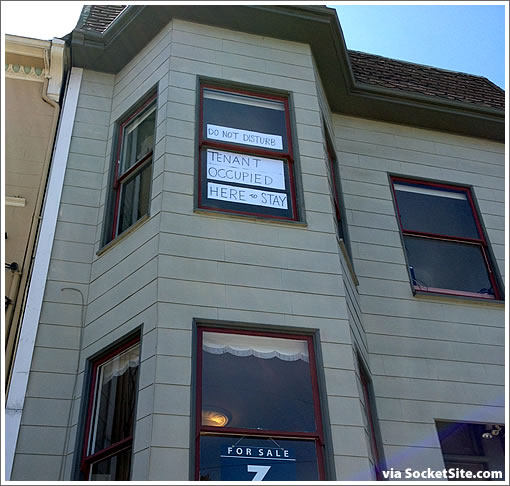 As we first reported about the sale of 446-448 Missouri Street in July:
The two-unit building at 446-448 Missouri Street is on the market in Potrero and asking $1,199,000 for the whole shebang. According to the listing, however, while "both units enjoy classic details," it's only the upper unit that "enjoy[s] panoramic City views!"
Unfortunately, while the lower two-bedroom unit is vacant, the upper two-bedroom is currently tenant occupied at a rent of $2,119 per month. And as a plugged-in tipster captures, the tenants have recently made their intentions clear.
The sale of 446-448 Missouri Street, which is neither condos or a single-family home, closed escrow on Friday with a reported contract price of $1,290,000. No word on how the "Here to Stay" tenants are being handled or whether or not they're going to get paid.
∙ Full Disclosure Or Poisoning The Well? [SocketSite]
∙ Rent Control In San Francisco: The Real Rules [SocketSite]
∙ Renters get boot with big rate hike [SFGate]