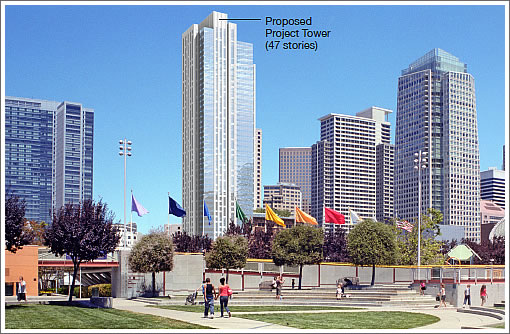 As we reported when we first published the details and renderings for the proposed 550-foot tower to rise at 706 Mission last month:
Currently zoned for 400-feet, the project will require a zoning map amendment to see its full potential versus being cut short. Assuming an amendment, a determination that new shadows cast on Union Square are not adverse will be required as well.
The shadow calculations prepared for the proposed project indicate that it would cast net new shadow on Union Square during the morning hours from early October through early November and from early February through early March. The proposed project would not cast net new shadow on Union Square after 9:30 AM on any day during the year.
On an annual basis, the proposed project would cast 337,744 sfh of net new shadow on Union Square, which would be an increase of about 0.22 percent relative to the existing annual shadow on the park. This amount of net new shadow would exceed the remaining shadow budget of 323,123 sfh of shadow that could be cast on Union Square by proposed future development projects.
Whiling acknowledging that city planners seem to believe the proposed tower will complement Jessie Square, John King plays the "but what if they're wrong" card and suggests a shorter tower makes more sense on the site:
A better approach here would be a high-rise in the 25-story range, exquisitely detailed and shaped to capture the eye from the street. In other words, along the lines of such diminutive standouts as 101 Second St. and the city's most recent condominium tower, One Hawthorne.
It wouldn't turn heads on the skyline. Instead, you could imagine it catching the eye when seen from Yerba Buena Gardens, glowing against the mundane slabs behind it to the north and east.
This approach would mean no shadows on Union Square. It also would silence the most vocal critics of the tower, speeding up the approval process. And in San Francisco, that might be the most valuable subsidy of all.
Based on our estimates, a 25-story tower would reduce the residential gross square footage of the building by 285,000 square feet, over half the proposed density for the site in San Francisco's urban core.
We'll also conservatively estimate that a loss of 285,000 gross square feet at this site would represent at least $425 million in sales, which if realized, would represent initial transfer taxes of over $3 million and property taxes of over $5 million a year.
UPDATE: While we're well aware Mr. King isn't suggesting the current design simply be shrunk, an approximation of how the site would look with the current design at 25 stories: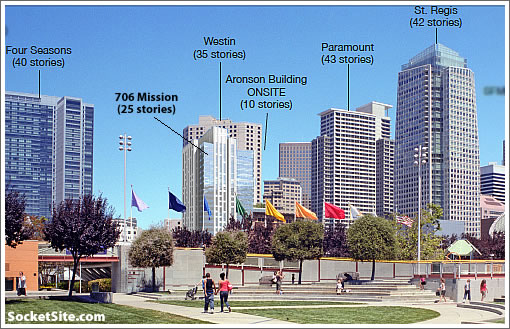 ∙ The 706 Mission Scoop: Design, Details And Timing For Museum Tower [SocketSite]
∙ Plaza could suffer if tower climbs high [SFGate]
∙ Sue Hestor Seeks To Stop Transit Center Tower Development Short [SocketSite]
∙ Sneak Peek: 706 Mission Tower Design And Aronson Building Rehab [SocketSite]
∙ San Francisco Property Tax Rate Set To Increase 0.67 Percent [SocketSite]