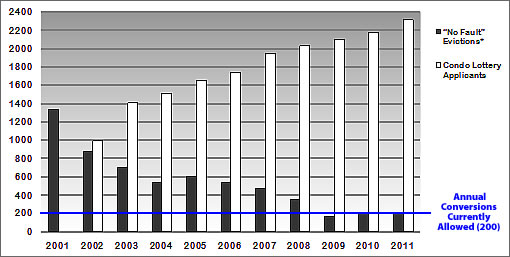 As we first reported two weeks ago:
While conspicuously absent from the Mayor's Housing Trust Fund proposal, according to a plugged-in reader, condo conversion lottery bypass legislation will be introduced before San Francisco's Board of Supervisors in the next few weeks. It remains unclear, however, whether the Mayor will be openly supportive or not.
Keep in mind that despite the then Mayor's support, it was San Francisco's Budget and Finance Committee that killed a proposed lottery bypass in 2010.
This coming Tuesday, Supervisors Farrell and Wiener will introduce legislation to San Francisco Board of Supervisors which would allow any of the roughly 2,500 units which either participated in, or could have qualified for, the 2012 condo lottery to convert for a fee.
∙ Condo Lottery Bypass Legislation Coming, Mayoral Support Unclear [SocketSite]
∙ The Mayor's Housing Trust Fund And Missing Lottery Bypass Fee [SocketSite]
∙ TIC Conversion Lottery Bypass And Mayoral Take Two [SocketSite]
∙ Condominium Conversion 2012 Lottery Deadline And Odds (Against) [SocketSite]
∙ Condo Lottery Bypass For A Fee Resurfaces In Mayor's New Budget [SocketSite]
∙ Budget and Finance Committee Kills Condo Lottery Bypass For A Fee [SocketSite]
∙ Condominium Conversion 2012 Lottery Deadline And Odds (Against) [SocketSite]