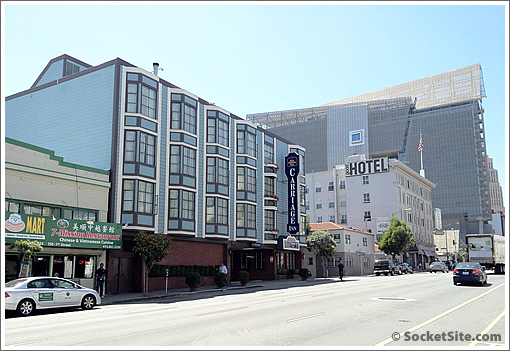 As the issue of illegally renting residential units for transient use in San Francisco captures more press, the owners of the Best Western Carriage Inn at 140 7th Street are moving in the opposite direction and jumping on the mid-market movement, quietly proposing to convert their property from a 48-room hotel into a 27-unit residential building with 3 two-bedrooms, 24 one-bedrooms, and 32 parking spaces.
From the Planning Department with respect to the proposed parking:
The proposed project would construct twenty-seven (27) new residential units; therefore, 14 off-street parking spaces would be permitted as of right for the residential units. With Conditional Use Authorization, the project would be permitted to construct twenty (20) off-street parking spaces for the residential units. The project would not be permitted to construct thirty-two (32) parking spaces for the residential units. Therefore, the proposed project needs to be revised to meet this Planning Code requirement.
However, the proposed project may be permitted to retain the proposed number of off-street parking spaces, if the parking is converted into a public parking garage. The proposed project may seek Conditional Use Authorization from the Planning Commission to authorize the use of a public parking garage on the ground and second floors. Generally, the Department does not support excess parking in a transit-oriented area.
The 28 proposed bicycle parking spaces would, however, be permitted and 25 required.
∙ Airbnb Hit List Take Two (Months Later) [SocketSite]
∙ Market Square's Mid-Market Retail Revolution [SocketSite]