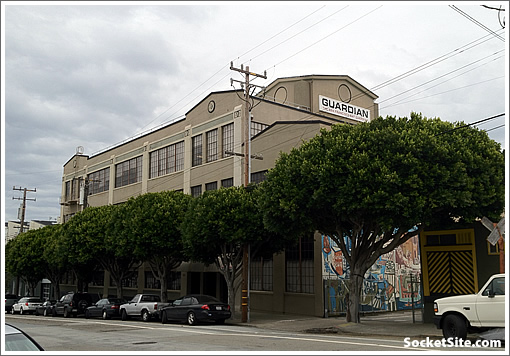 Union Property Capital (UPC) is in contract is to purchase the San Francisco Bay Guardian's Potrero Hill headquarters building at 135 Mississippi for $6.5 million. Guardian owner Bruce Brugmann purchased the building for $4.7 million in 2002.
From the Business Times with respect to a bit of sale hypocrisy irony:
The Bay Guardian has been a vocal opponent of development in the city, railing against highrise construction, luxury housing, and zoning rules that favor tech and knowledge-based companies over more traditional blue-collar jobs.

Ironically, it was UPC that assembled and did the early planning on one of the most prominent highrises built in downtown San Francisco in the last decade: Tishman Speyer's two-tower Infinity project at 300 Spear St.

UPC also developed a data center at 365 Main St., built a luxury residential loft project at 150 Powell St., and repositioned SoMa buildings like 330 Townsend St. and 840 Brannan St. for dot-coms. The company also completed a condo conversion of a former rental building in Alamo Square — the sort of project that the Guardian routinely opposes in the interest of protecting the city's rental housing stock.
And yes, we do believe UPC has set its sights set on developing the property.