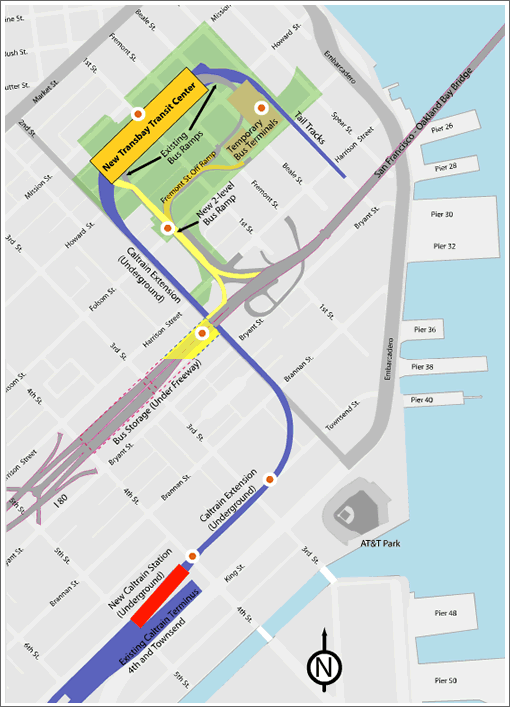 As we wrote and quoted back in 2008:
While Proposition 1A passed last week giving San Francisco hope of realizing a high-speed rail line, the hope that rail lines will be extended the 1.4 miles from the current Caltrain station at Fourth and King to the new Transbay Transit Center to rise at First and Mission might have taken a hit.
"We do not need First and Mission. I am satisfied with Fourth and Townsend," said Judge Quentin Kopp, chairman of the High Speed Rail Authority. "We are not going to pay an extra billion-plus dollars to take the high-speed rail an extra 1.4 miles."
The extension will have to be resolved — and funded — by The City and Caltrain, he said.
In related news, the realization of high-speed rail could help speed the electrification of Caltrain which would greatly benefit the residents of Mission Bay (think diesel noise and pollution).
Last week, a plan to spend $1.5 billion dollars to electrify Caltrain by way of a mix of bonds, tax revenue and federal grants was agreed upon and included a "pledge by Bay Area leaders to build a 1.2-mile tunnel through downtown San Francisco to connect the line to the new Transbay Terminal."
The electrification is expected to take five years and construction could commence as early as next year. Now about the potential to develop the Fourth and King Streets railyard we first mentioned a few years ago…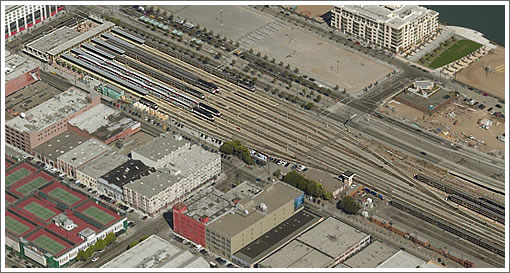 ∙ Transbay Terminal Moves Forward, But Payments And Terms Change [SocketSite]
∙ California High-Speed Rail Peer Review Questions Plans For HSR [SocketSite]
∙ While San Francisco Might Get High-Speed Rail, Will The Transbay? [SocketSite]
∙ $1.5 billion Caltrain deal packs some big extras [SFGate]
∙ Fourth and King Railyard: Now You See It, Perhaps One Day You Won't [SocketSite]