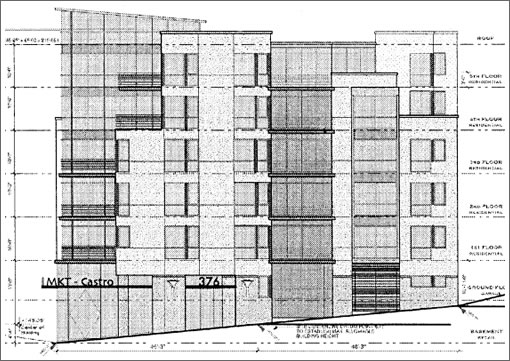 As plugged-in people know, the plans to build six stories on the northwest corner of Castro and Market are back in play:
The proposed project would involve the demolition of the existing automotive gasoline and service station…and the construction of a six-story, approximately 65-foot-tall, 43,070-square-foot, mixed-use building with 24 residential units, approximately 2,990 square feet of ground-floor commercial space and a 14-space underground parking garage with ingress and egress from Castro.

The residential use (19 two-bedroom units and 5 one-bedroom units) would be approximately 27,000 square feet in size. In addition to the proposed commercial space, the ground floor level would also contain the residential lobby, with both entrances from Castro Street.

The proposed project would reduce the amount of curb-cuts along the project site from four driveways, two along both Castro and Market Streets, to one driveway on Castro Street. Existing street trees along Market Street would be retained and new street trees, approximately four, would be added along Castro Street. The four palm trees on the adjacent property to the north along the retaining wall would be retained.

The project would require excavation to a depth of 10 feet below ground surface for the below grade parking garage. Construction of the proposed project is anticipated to last 15 months, starting in approximately spring of 2012.
Objectors and obstructers have until December 2 to challenge the Mitigated Negative Declaration for the project as proposed. And once again, as the corner currently appears: