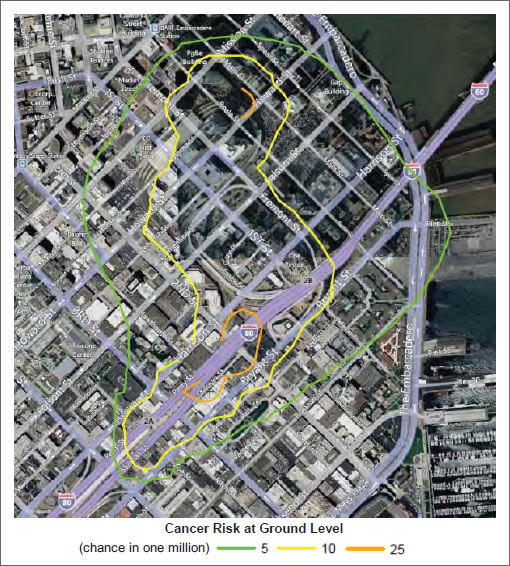 Speaking of the Plan for building out San Francisco's Transit Center District, from the Plan's Environmental Impact Report (EIR) with respect to the Transit Center's estimated impact on air quality and resultant neighborhood cancer risk:
Regarding operation of the Transit Center, because bus operations can be estimated, air quality modeling of diesel buses that will serve the Transit Center was undertaken. The analysis focused on the new Transit Center, because that is where there will be the greatest concentration of diesel-powered buses in the Plan area. The analysis revealed that those bus operations could generate a lifetime cancer risk in excess of 10 in one million at locations proximate to the Transit Center and the ramp linking the terminal to the Bay Bridge, and at elevations from at grade to approximately 100 feet (30 meters) above street level.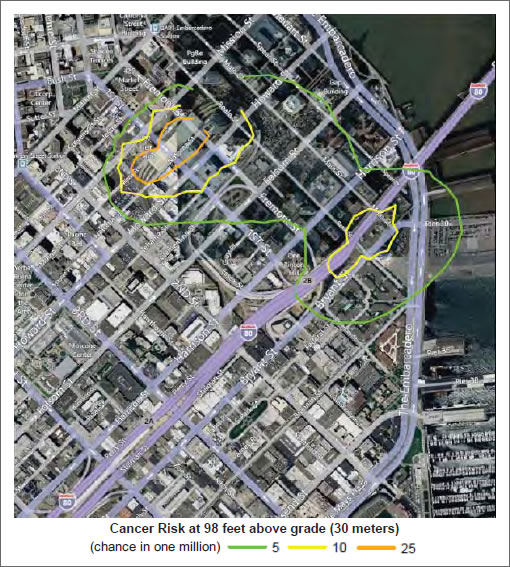 Subsequent residential development projects (and other projects with sensitive receptors) in these areas, therefore, would be subject to a potential significant impact from diesel bus emissions, exceeding the 10 in one million BAAQMD project‐specific guideline for a single source impact on new receptors. Therefore, these projects would likely have to implement mitigation measures, such as [installation of a filtration system].
These potential significant air-quality impacts due to exposure to roadway pollutants and stationary source risks, including PM2.5 concentrations and cancer and non‐cancer health risks, would be reduced with implementation of…an overlay zone in which site specific analysis or refined modeling would be required in advance of the approval of subsequent development projects that would include sensitive receptors, and that the Transit Center District Plan include "goals, policies, and objectives to minimize potential impacts."
Mitigation [Measures] would also require that residential development projects in the Plan area be designed to reduce air quality impacts to residents through building design (e.g., ventilation and air filtration systems). This measure would apply to the entire Plan area because of the large number of permitted and unpermitted stationary sources—mostly diesel generators and boilers—and the high percentage of streets with traffic volumes that could generate relatively high concentrations of PM2.5 throughout the Plan area and vicinity.
Because the pollutant concentrations vary by location, it is not possible to conclude that Mitigation Measures would bring concentrations or the resulting health risks below the BAAQMD‐specified levels for each subsequent project with sensitive receptors. Therefore, this impact would remain significant at the Plan level after mitigation.
Or as has previously been discussed, Freeway Pollution: Conjecture Or Consideration?
∙ The Plan For San Francisco's Tallest Tower And Transit Center District [SocketSite]
∙ Transit Center District Environmental Impacts and Mitigation Measures [sfplanning.org]
∙ Freeway Pollution: Conjecture Or Consideration? [SocketSite]