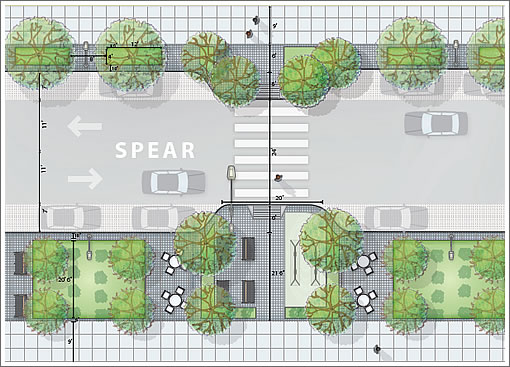 First drafted in 2006 but never finalized nor adopted by the Planning Commission or Board of Supervisors, the draft Rincon Hill Streetscape Master Plan has been dusted off.
On Tuesday, the Planning Department will host a public meeting "to review and prioritize [the] public realm improvements" outlined in the Rincon Hill Streetscape and Traffic Plan, the underlying goals of which are:
Create "Living Streets" on Spear, Main, and Beale Streets, including calmed traffic and significant open space amenities. The calming of traffic is intended to facilitate a pleasant and safe residential, pedestrian, and bicycling environment, and the creation of lushly-landscaped streets with usable open space is necessary to augment the deficit of open green space in this dense urban area.
Improve pedestrian conditions at intersections, particularly near freeway ramps.
Widen narrow sidewalks on Fremont, First, and Harrison Streets to the greatest extent feasible.
Separate bridge-bound traffic from local traffic on First Street and from local traffic and peak hour transit lanes on Harrison Street.
Tomorrow, July 19th at 6 p.m. at Eucharist Commons (285 Main Street at Folsom) if you'd like to have a voice or say.
∙ The (Traffic) Plan For Rincon Hill [SocketSite]
∙ Rincon Hill Streetscape Master Plan [sf-planning.org]
∙ Rincon Hill Streetscape Master Plan Public Meeting: 7/19/11 [sf-planning.org]