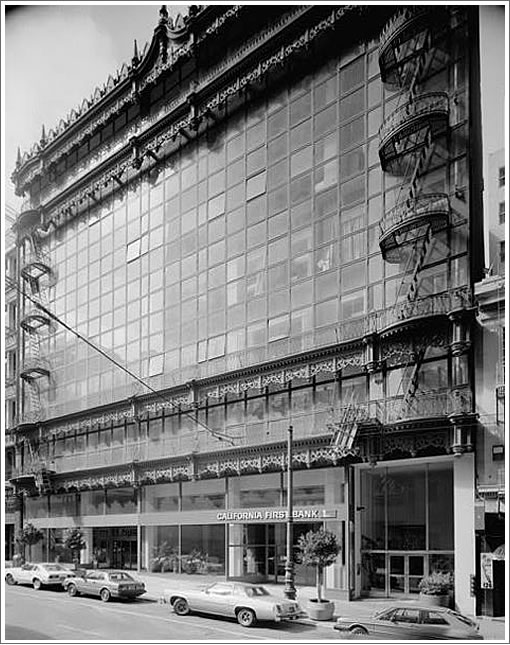 Recent NCAT expert witness reports for the Willis Polk designed Hallidie Building at 130 Sutter Street, San Francisco Landmark number 37 and one of the first examples of glass curtain-walled design:
The purpose of this inspection was to assess the general condition of ornamental metal and their anchorage to the building. We were limited to inspections of the first level of these metal pieces, which are located near the elevation of the second floor. We were assisted in this inspection with the use of a man lift.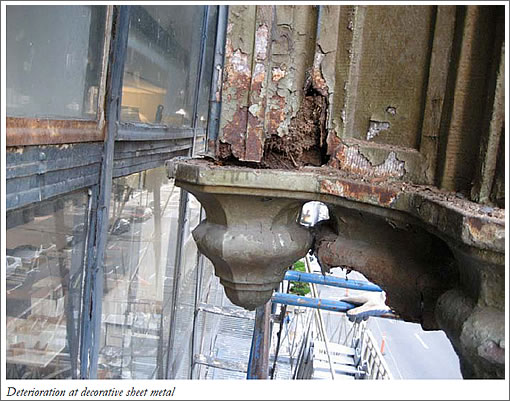 Removal of a portion of the metal cladding allowed us to inspect the interior of the metal pieces and thereby we were able to observe the attachment of these pieces to the building structure. The pieces are attached to various steel brackets which are in turn attached to steel out riggers that are an extension of the steel framework of the building. We noted that the steel brackets were not painted with in the concealed space of the metal pieces but were painted where they are exposed to the exterior. We also noted that the roof enclosure over the metal pieces appears to have been leaking for a considerable amount of time.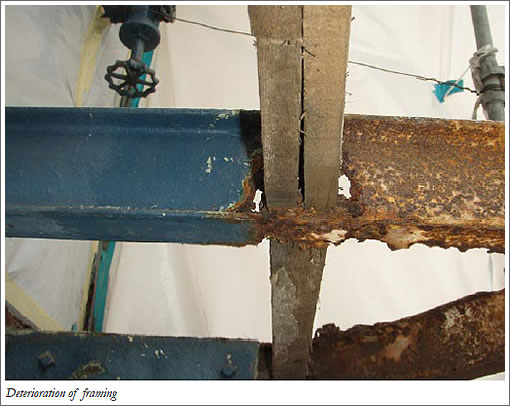 Of considerable concern is the condition of the steel brackets observed. Pieces of the brackets have deteriorated to the point where they are no longer functional. The steel has completed delaminated and portions of the steel members have disintegrated. It is our opinion that it is just a matter of time before portions of the façade supported by these brackets will fall off of the building.
We strongly recommend that corrective action be taken immediately. Falling protection, some of which we noted has been installed, should be reviewed and complemented if found necessary. Removal of all badly deteriorated elements should begin as soon as possible.
On Wednesday an informational hearing regarding emergency work on the building will be heard by the Historic Preservation Commission as rehabilitation work on the landmark building requires a Certificate of Appropriateness from the Commission.
In the meantime, heads-up.