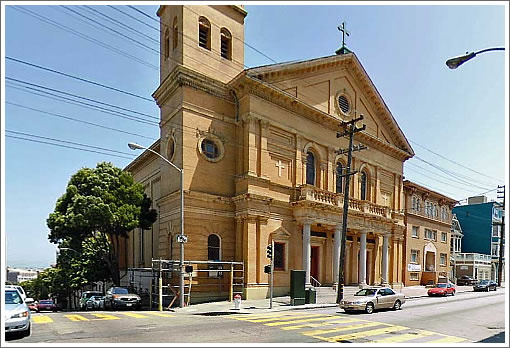 Amongst other items in front of San Francisco's Land Use and Economic Development Committee this afternoon, a resolution "urging the Department of Building Inspection to diligently monitor the status and the condition of the Historic Sacred Heart Church, documenting the understanding between the Megan Furth Academy and its neighbors, seeking re-installation of the exterior stained glass windows and requesting the City Attorney to open an investigation for the purpose of enforcing possible violation of the Building and Planning Codes."
The Sacred Heart Church was sold to Megan Furth Academy in 2005 with an understanding that "Megan Furth Academy would preserve, at a minimum, the exterior of the church thereby maintaining the character of the neighborhood." Since then, its two rose windows, organ and at least one marble altar have been removed and sold.
Sacred Heart's three white Carrara marble altars were designed by Milan-born Attilio Moretti (1852-1915) and unveiled to the public in 1910 for the parish's Silver Jubilee. The main altar is 25 feet long, 37 feet high and weights 95 tons. The altars were carved in Italy by Gighli and Vanelli and installed by John Catto's monument company under Moretti's supervision. The painting at the center of the main altar was done by an unknown German artist working for Munich-based Fritz, Mayer & Co., best known for its stained glass. The same company created the two rose windows in the transepts in 1909.
Later in the 1920's, the well-known early 20th century muralist Achille G. Disi created Sacred Heart's ceiling art. As a result of the 89 Loma Prieta quake, the murals on the ceiling have been covered by protective netting. Also affected by the quake, the 1933 Hook and Hastings organ has remained unused in the choir loft for fear the vibrations might damage the ceiling. In the early 1980s, Keven McGown dedicated nine months to restoring the organ as a gift to Sacred Heart before succumbing to AIDS.
The Church was inducted into the National Register of Historical Places on March 23, 2010 and is eligible for national landmark status.
∙ San Francisco Land Use and Economic Development Agenda: 11/8/10 [sfbos.org]
∙ Resolution to enforce Preservation and Restoration of Sacred Heart Church [sfbos.org]