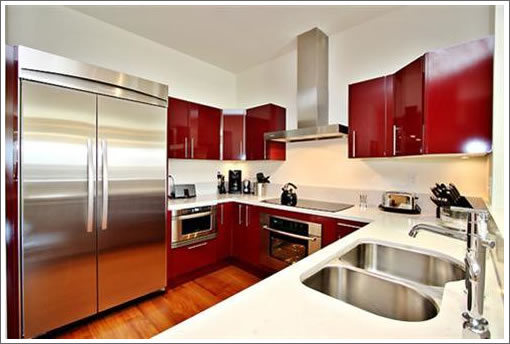 Purchased for $1,350,000 in February of 2008, the two-bedroom Jackson Square condo known as 733 Front Street #508 returned to the market the past March asking $1,375,000. Reduced a few times and touting "Bring Offer!" at $1,249,000 five days ago, the Jackson Square condo was relisted anew this past Friday at $1,237,500.
Industry stats now reflect an official three days on the market for the 1,459 square foot number 508 and a sale at $1,237,501 would be reported at "over asking" (perhaps even with an exclamation point). A sale at $1,237,501 would also reflect an 8 percent decline in value for the Jackson Square condo over the past two years.
Also on the market at 733 Front Street, number 407. Purchased for $730,000 in September of 2007, the one bedroom was listed for $760,000 this past January. Reduced to $730,000 in February and then to $629,000 in April, for the past two months it has been listed on the MLS as a short sale at "$549,000" but without any mention of bank pre-approval at that price.
In May the two bedroom and two and one-half bath 733 Front #506 sold for $1,550,000, it has been purchased in June of 2008 for $1,700,000, 4 percent under its asking of $1,780,000 in 2007 and a 9 percent drop in value over the past two years.
∙ Listing: 733 Front Street #407 (1/1) – "$549,000" (Short Sale) [MLS]
∙ Listing: 733 Front Street #508 (2/2) 1,459 sqft – $1,237,500 [MLS]
∙ 733 Front: A Few Condo Floor Plans (And Some More Pricing) [SocketSite]