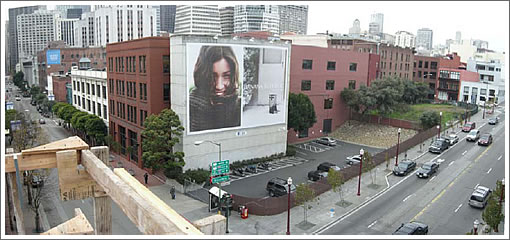 A sister development to the cater corner Broadway Family Apartments which received 8,500 applications for its 80 apartments in 2008, the proposed affordable housing development at 235 Broadway would replace the paved parking and undeveloped lot on the south side of Broadway between Battery and Sansome, once home to an Embarcadero Freeway ramp.
The proposed project involves the construction of a 65-foot-tall, six-story, 86,000-square-foot (sf) mixed-use building containing 61 residences (78,000 sf), 5,000 sf of ground-floor neighborhood-serving retail, and 3,000 sf of supportive service space. No on-site parking is proposed.

The residential development would be 100 percent affordable and would consist of 10 studio units, 8 one-bedroom units, 24 two-bedroom units, and 19 three-bedroom units. The San Francisco Redevelopment Agency is the property owner and Chinatown Community Development Center is the project sponsor. The project would require variances from the Planning Code for rear yard configuration, dwelling unit exposure, and parking. The project would also require conditional use authorization for bulk exception.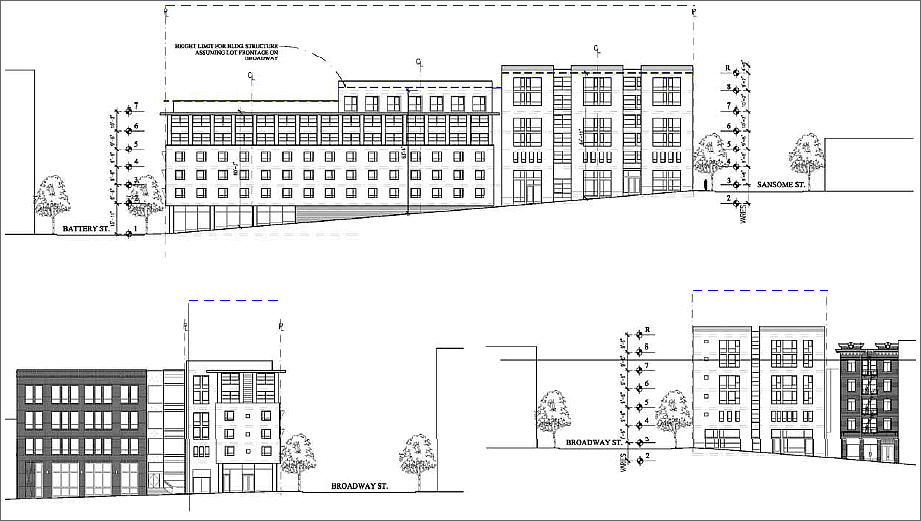 The block-long project site stretches from the large parcels and loft buildings to the east of Battery Street to the more typical San Francisco fabric of very small lots at Sansome and to the west. The building is designed (click image to enlarge) to respond to these conditions.

From Broadway and Battery Street and stretching two thirds of the way up along Broadway, the building would contain a horizontally configured loft-like bar with retail frontage at the Broadway/Battery corner. This element has a three-story middle section over the retail base with a two-story glassy loggia above. The Broadway façade would contain a central entrance and courtyard. The western third of the block, approaching Sansome Street, would contain deep notches in the building and small, vertically proportioned elements, which would be similar in scale to the smaller buildings on Sansome Street.

The Broadway/Sansome corner would also have retail frontage. The interplay of the two compositional strategies related to the surrounding buildings would articulate and give appropriate scale to the only full-block frontage on this portion of Broadway.
Construction could start as soon as November 2011 and would last for 24 months.
∙ Broadway Family Apartments: T-Minus Three Months To Opening [SocketSite]
∙ 235 Broadway – Broadway Sansome Family Housing Proposal [sf-planning.org]