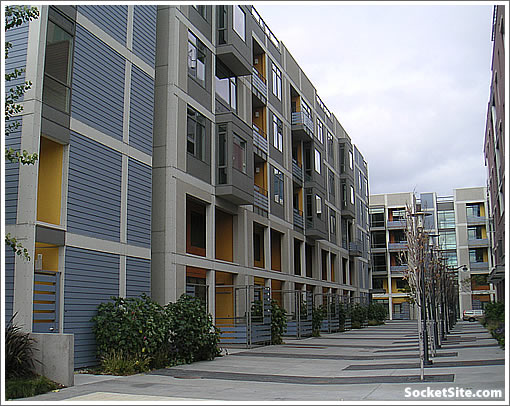 Plugged-in people should have seen this coming (others simply scoffed at our noting reductions on BMR re-sales and comparisons of bank-owned and BMR price points).
From the Examiner today:
Purchasing rules that govern scores of San Francisco Redevelopment Agency condos are being relaxed to help sell the units in a battered real estate market.

"We've never had this much inventory on the market," Redevelopment Agency Executive Director Fred Blackwell said.

Agency commissioners this week raised the income cap for buyers to qualify for some of the units at Mission Walk — a 131-unit, two-building project completed on Mission Bay's Berry Street in July — from those earning 100 percent of The City's median income to those earning 120 percent.

"The price points, when you look at foreclosures and look at our units, are pretty much the same," he said. "What people are doing, it seems, is choosing to go with the foreclosures because the foreclosures don't have the same kind of income restrictions or equity restrictions."
Income restrictions have already been relaxed for the Bay Oaks development at 4800 Third Street and are expected to be relaxed for the 125-unit project at 5600 Third Street.
The Redevelopment Agency might also begin offering down-payment assistance for buyers in either of the two Third Street developments.