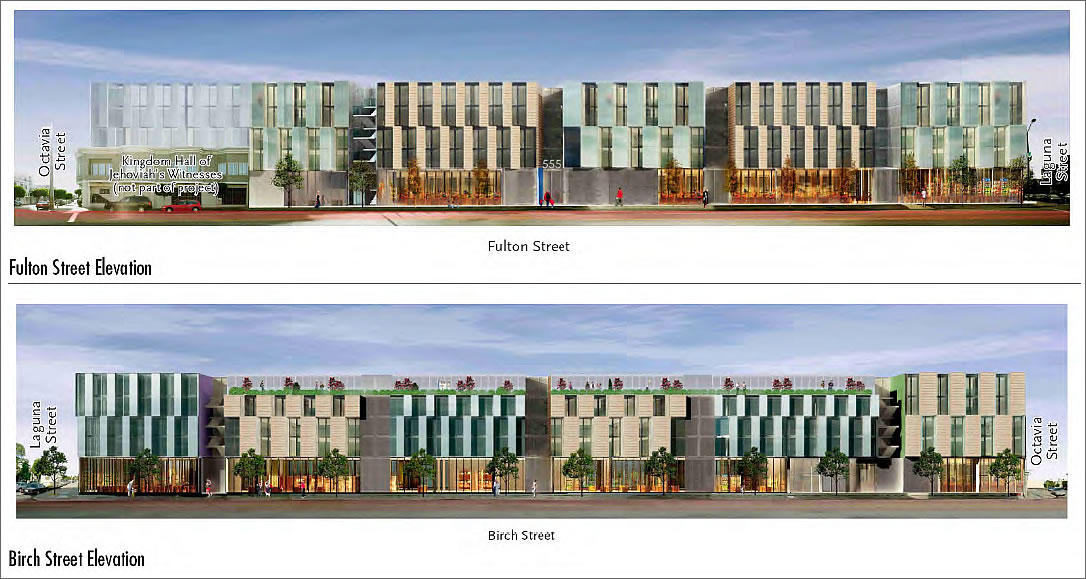 The Stanley Saitowitz design for 555 Fulton (click image to enlarge) has been "refined" a bit since a plugged-in tipster first forwarded the renderings three years ago. New details for the proposed 136-unit mixed-use project in Hayes Valley:
The project site is located on the south side of Fulton Street in the block bound by Octavia, Laguna, and Birch Streets in San Francisco's Hayes Valley neighborhood.
The proposed project would result in demolition of the subject property's existing two-story 19,620-square-foot industrial (office and warehouse) building and the removal of an approximately 70-space surface parking area (approximately 5,200 square feet). It would entail the merging of the two lots and the construction of a five-story, about 55-foot-tall, mixed-use building. Constructed in 1957, approximately 29 firms use the existing building for office space in addition to a plumbing company, a cabinet company, and a hot dog stand.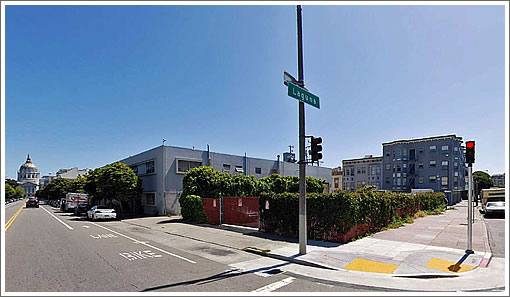 The proposed project would have 136 residential units (32 studios, 48 one-bedroom, 56 two-bedroom), about 32,800 square feet of ground-floor commercial (supermarket) space, and up to 195 spaces of parking in a two-level underground parking garage, which would also include 52 bicycle spaces. Total building area would be approximately 245,610 gross square feet, comprising 139,637 gross square feet of residential space, 32,800 square feet of commercial space, 68,700 square feet for parking, and 4,473 square feet for building services.
Residential access would be from one midblock entrance on Fulton Street and one midblock entrance on Birch Street. Retail access would be from Laguna Street. Ground‐floor parking access would be from Fulton Street. First level parking access (commercial and residential) would be from Octavia Street, and second level residential‐only parking would be from Birch Street.
The Kingdom Hall of Jehovah's Witnesses at Fulton and Octavia would remain.
∙ We Want Need Some Answers (For 555 Fulton) [SocketSite]
∙ 555 Fulton Preliminary Mitigated Negative Declaration [sf-planning.org] [Map]