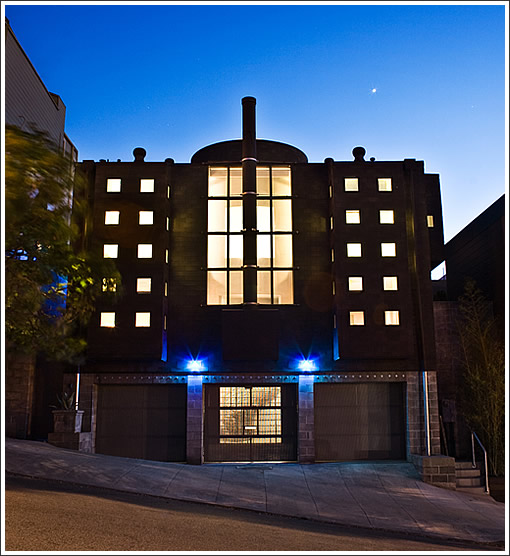 On the market in 2007 asking $2,300,000, the Daniel Solomon designed 610 Rhode Island (a.k.a. Kronos House) garnered four offers and sold for $2,551,000 that August.
Quietly on the market for the past few months asking $2,500,000, the list price is being lowered to $2,400,000 and the house should officially hit the MLS next week.
As we wrote in 2007:
So here's the inside scoop on 610 Rhode Island. Designed by Daniel Solomon, the home was built in 1989 for Kronos Quartet cellist Joan Jeanrenaud (one of the bedrooms was originally her rehearsal studio) and her husband, recording artist and producer Pat Gleeson (one of the bedrooms was originally his recording studio). The [then] current owners/sellers (no, not Joan and Pat) have moved next door.

Acoustical perfection (credit John Storyk) and natural light are central themes of the house with perforated galvanized steel (backed by wood) on the walls which absorbs sound (think big party with little din) and bounces light throughout the great room and loft. And while the zinc-clad kitchen and bathroom complement the design, we'd probably budget for replacing it with something a bit more user friendly.
It won't be a perfectly apples to apples sale, however, as a few bedroom built-ins have been added, but it will be pretty close (assuming a few pieces of art are included as well).
And sorry, but it's expected to be by appointment only (i.e., no Sunday open houses).
[Full Disclosure: The listing agent for 610 Rhode Island currently advertises on SocketSite but provided no consideration for this post. And yes, we would have featured it regardless.]