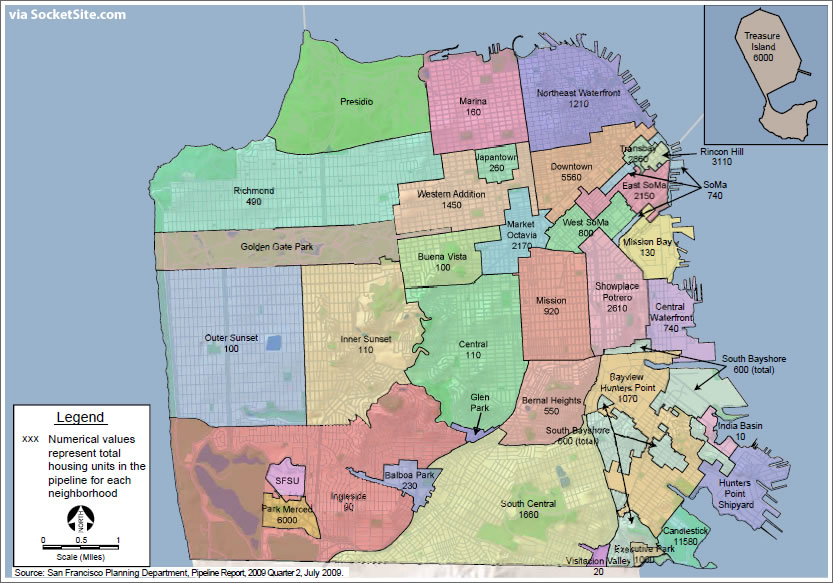 According to the San Francisco Planning Department and its 2004 and 2009 Housing Element Report, San Francisco's big picture (click to enlarge) housing pipeline is as so:
∙ 156 projects with 6,510 housing units are currently under construction
∙ 168 projects representing 2,850 units have received a building permit
∙ 316 projects representing 4,480 units have applied for a building permit
∙ 92 projects representing 6,200 units have been approved by the Planning Department
∙ 130 projects representing 34,750 units have filed for Planning Department approval
From the Planning Department's report:
Collectively, these 54,790 new units represent San Francisco's pipeline projects….It is possible that some of these projects may not go forward due to shifts in economic and legislative conditions. However, production trends over the last decade show that as much as 85 percent to 90 percent of pipeline project units are completed within five to seven years.
We'll keep you plugged-in to the happenings on all 54,790.
UPDATE: As a plugged-in OneEyedMan notes, and perhaps we should have emphasized, the next ten years are unlikely to be like the last. Or as we often like to quote, "past performance is no guarantee of future returns."