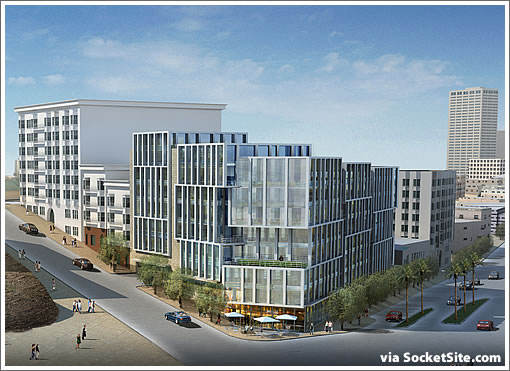 A plugged-in tipster reports with respect to the proposed development at 1960-1998 Market Street which was unanimously approved by the Planning Commission last night:
The following describes the design changes that were have made to the project over the last several weeks in response to the comments that were received from the Planning Commission, SF Planning Department and the Duboce Triangle Neighborhood Association.
Bernardo Fort-Brescia and the team at Arquitectonica amazingly improved upon their original design while going through what almost turned into design by committee. These Architects were challenged to respond to community and incorporate changes while still maintaining the integrity of the building, which is a bold, iconic statement for such a prominent comer location.
Market Street: Additional vertical fins have been added to strengthen the vertical expression. The major horizontal mullions have been reconfigured in a staggered pattern, eliminating their alignment and further reducing the horizontal emphasis of the façade. A canopy has been introduced along Market Street to reinforce the pedestrian and retail environment.
Buchanan Street: The changes described above have been incorporated into the first bay along Buchanan Street. The second bay has been modified significantly, stepping up in height to relate to the change in street level. The vocabulary of the second bay now relates to the adjacent residential buildings by incorporating stone and a more regularized window arrangement.
Light well: A light well has been incorporated at the northwest corner of the building that corresponds to the neighbor's exiting light well.
Rear yard setback: The northeast corner of the building has been pulled back to allow a greater separation between this building and the neighbors to the north.
Another tipster adds, "In a topsy-turvy hearing, the local neighbor associations supported the project, while the Building and Construction Trades Council was opposed to it."
UPDATE: A close-up on the corner (and how it looked before):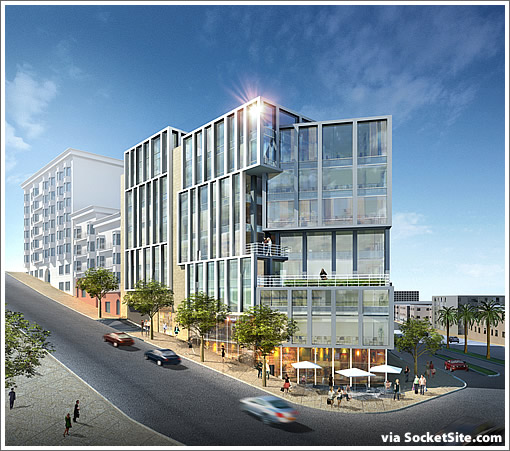 ∙ Now THAT's Not The Arquitectonica Design For Market At Buchanan [SocketSite]
∙ Now THAT's The (An) Arquitectonica Design For Market At Buchanan [SocketSite]