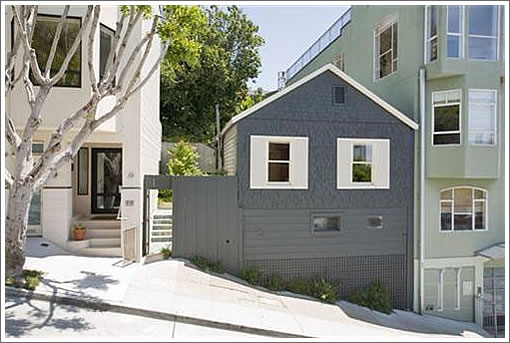 As we wrote this past September:
Purchased for $633,000 in October of 2005, this Telegraph Hill single-family "cottage" failed to find a buyer when it was listed for $779,000 eighteen months ago. Back on the market in 2008. And now asking $629,000.

No word on whether or not the fair market value of the "magical transformation by renowned, interior designer, Linda Applewhite to resemble the cottages of napa valley bed & breakfast" will need to be backed out of the future sale price in order to establish an "apple."
Withdrawn from the MLS in November, 1448 Kearny officially returned to the market yesterday. Now asking $525,000, a sale at which would represent a 17% drop in value over the past four years (not accounting for the value of that magical transformation), and a 32% drop in expectations over the past two.
∙ Listing: 1448 Kearny Street (0/1) – $525,000 [MLS] [Floor Plan]