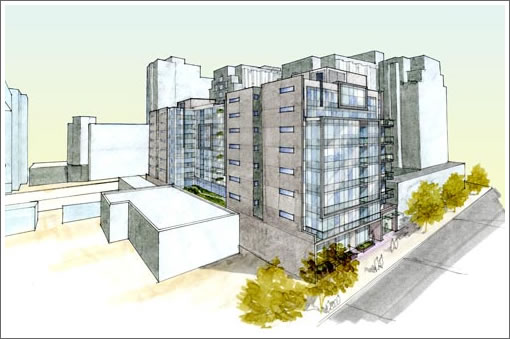 A plugged-in tipster reports on last night's Planning Commission meeting:
"Looks like 430 Main / 429 Beale was approved last night with a 6-1 vote. The one in opposition, of all people, was Commissioner Antonini, who was in full support of the project and merely opposed the condition that the project remain rental for at least 20 years before going to condos. (As he stated, he believes boxing a developer in can only be detrimental)."
113 apartments sandwiched between the existing Baycrest condos and a Caltrans yard.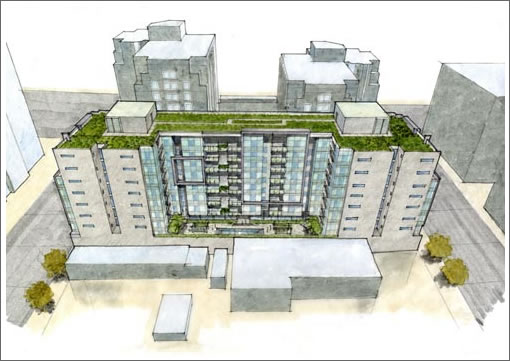 And with construction slated to begin early 2010.
UPDATE: A bit more detail from the San Francisco Business Times:
The eight-story building will consist of 60 percent 500 square-foot studios and 40 percent two-bedroom units that will average about 875 square feet. [Portland-Pacific President Chris Zupsic] called it "affordable by design" and said the units would be suitable for a down economy when many residents are wary of chic high-end housing.

"We knew this market was coming and that this was going to be the right kind of product for this market," he said. "This is not a high amenities building. There is no concierge, no swimming pool, no workout room. It's very straight forward."

Portland-Pacific hopes to finance the building through Housing and Urban Development's Section 220, a program in which the Federal Housing Administration insures construction loans for multifamily housing projects located in urban renewal area. Zupsic said they are already far along in the HUD Section 220 application process and that Wells Fargo would be providing the FHA-backed loan. The project was designed by AB Design Studios and will be constructed by BCCI Construction.